A blind veteran from South Glamorgan will spend the festive period with other vision-impaired ex-Service men and women at Blind Veterans UK's centre in Llandudno.
Every year the charity invites beneficiaries, like Eric Henderson, 87 and from Dinas Powys, who would otherwise be alone at Christmas, to spend the week at one of its training and rehabilitation centres.
Born in Cardiff in 1931, Eric joined the Royal Army Medical Corps in 1949, spending some of his service in the Queen Elizabeth barracks, which he describes as once huge, but now all gone, apart from the driveway.
Decades later, Eric only realised his sight was deteriorating when at an art class where he thought the lights were too dim. Upon driving home afterwards, he thought it was surprisingly foggy. His sight loss was fairly rapid and he received a diagnosis of macular degeneration, a leading cause of sight loss in older people.
Eric started receiving support from Blind Veterans UK in February 2017, and had his induction at the charity's centre in Llandudno. As a resident in a sheltered housing complex, living alone, he is looking forward to returning to North Wales for Christmas, having previously spent a Christmas at the charity's other training and rehabilitation centre in Brighton.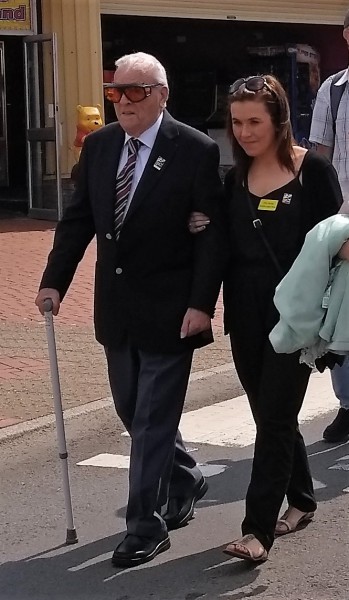 On spending the festive period in Llandudno, Eric said: "It's a very nice spot, and the building is beautiful. It is certainly better than being stuck here on my own, and I know I'll enjoy it. There is a couple from Barry I know who are going, too, and it will also be good to meet new people."
Of Blind Veterans UK, Eric also said: "I've had fantastic support; I can't fault it. There are courses I've been on, and I have been very well looked after. Being on the receiving end of sight loss, I have great respect for the work that goes on, and for the people who work there. When I come back after Christmas, I know I will feel one hundred per cent better."
Blind Veterans UK currently supports more blind Veterans than ever before in the charity's history, but it knows there are many more who still need its support to rebuild their lives following their sight loss. The charity has a dedicated community team in South Wales who provide support including training, equipment and social events for vision-impaired ex-Service men and women in the local area.
Visit blindveterans.org.uk to learn more about the charity and how you can support its vital work today.