Funeral for RAF veteran on November 1st at Southend Crematorium. 
This Thursday, the local community will come together to lay 92 year old Bernard Mabey to rest at Southend Crematorium. A former member of the famous Dambusters squadron (617 Bomber Command), 'Bernie' will be honoured by friends, family and military alike.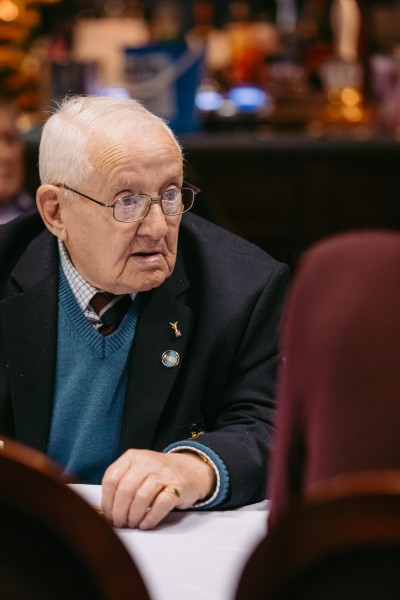 Having lived through the Blitz, Bernie joined the Royal Air Force when he turned 18, serving as an aircraft mechanic with Bomber Command until 1947. Upon leaving the Forces, Bernie went on to have a family of his own and was a successful business man. In his later years, Bernie enjoyed attending the SSAFA Southend Lunch club with his other former military pals.
Bernie passed away peacefully in Southend Hospital and his funeral service will be held at Southend Crematorium, South Chapel on Thursday 1st November 2018 at 2.20pm – those wishing to pay their respects are welcome.
Michelle Turner-Everett, who runs the SSAFA Southend Lunch Club for veterans every Thursday, says:
"It's always incredibly sad to lose a member of our local veteran community – but I hope that our send off does him proud. Aside from serving our country, Bernie was a wonderful man and made us all laugh with his cheeky sense of humour. He will be very much missed by all of us."
To any veteran in the local area wishing to attend the SSAFA Southend Lunch Club – get in touch with Michelle – Chel.Turner-Everett@Essex.ssafa.org.uk.
Notes to editors:
SSAFA, the Armed Forces charity, has been providing lifelong support to our Forces and their families since 1885. Every year our staff and team of volunteers help more than 73,000 people, from Second World War veterans to young men and women who have served in more recent conflicts.
For more information visit www.ssafa.org.uk and follow us on Twitter: @SSAFA.