Care for Veterans are delighted to share that they've received a £109,910 grant from ABF The Soldiers' Charity to fund their specialist care services.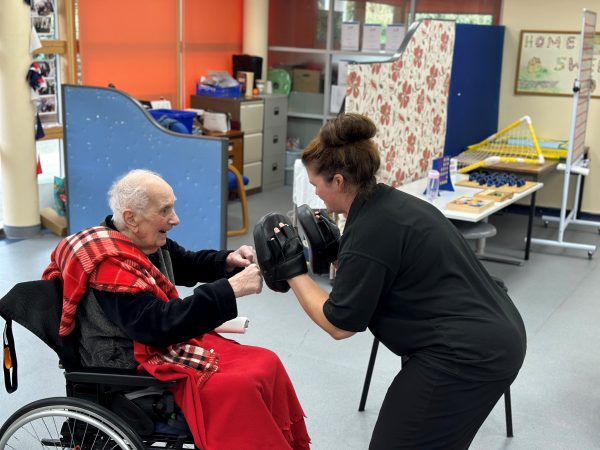 ABF The Soldiers' Charity work to help soldiers, veterans, and their families avoid hardship and enjoy independence and dignity. Within the last year, ABF has supported around 70,000 members of the Army family across 45 countries.
Since 1919, Care for Veterans has provided respite, rehabilitation, residential and palliative care to disabled ex-armed forces personnel and their families. Their 60-bed facility offers a range of in-house services, including physiotherapy, occupational therapy, speech and language therapy, a Wellbeing Hub and a Wheelchair Clinic. To cover the costs of these services, £1.5 million needs to be raised every year.
As part of the multi-disciplinary approach at Care for Veterans, the staff look to combine a wide range of rehabilitation services in to the daily life of residents. Every day, wheelchair-based exercises take place at 10am from the Wellbeing Hub. These sessions incorporate both aspects of physiotherapy and wellbeing care, with the aim of helping residents begin their day in a cheerful and productive manner.
Motivational music plays whilst Rehabilitation Assistants Gill and Lisa take it in turn to lead the group through a series of gentle but meaningful movements to support residents' fitness and wellbeing. Among those attendees present are regulars, including Army veterans Steve Boylan (aged 48) and Les Hollebone (aged 97).
Steve served with the Royal Engineers for 17 years in Afghanistan, Kosovo and completed essential water engineering work in Sierra Leone to combat the Ebola virus. He has been living at Care for Veterans since 2018 following a life-changing road traffic accident which occurred whilst on leave and caused a brain injury. Les served with the Queen's Royals regiment from 1942-47 and fought in the Burmese war, and then later served in the Gloucesters from 1950-54.
Rehabilitation Assistant Lisa explained,
"from a well-being perspective, these exercises are about making someone feel good about themselves, boosting the self-esteem and confidence that they may have lost over the time they have been poorly. These sessions can help them realise that they still have a purpose and a life inside them with a certain amount of strength. It helps uplift them emotionally and using the boxing gloves helps them work out some inside anger and frustration."
Physiotherapist Magda added,
"Residents' morning exercises are an essential part of the rehabilitation and long-term care programme we offer. Exercising in this way encourages residents to build up and maintain upper and lower body strength, preparing some for their one-to-one physiotherapy sessions and ensuring others can continue being independent for as long as possible".
Kate Schroder, Chief Executive at Care for Veterans, said,
"We are extremely grateful to ABF The Soldiers' Charity for their loyal support of Care for Veterans over a great number of years. Their support in 2023 will have a significant impact on our Army veterans, allowing us to continue delivering our vital care and rehabilitation services at a time when many are facing the toughest battles of their lives."
Brigadier (Ret'd) Peter Monteith, Chief Operating Officer of ABF The Soldiers' Charity, commented,
"Our charity is proud of the long-standing relationship we have with Care for Veterans. We were very pleased to award another grant this year towards its first-class care and rehabilitation services for veterans with complex neurological conditions."