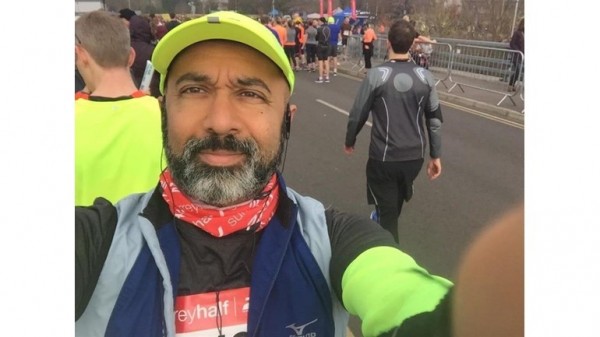 A man from Surrey is set to compete in the London Marathon for Blind Veterans UK, the national charity for vision-impaired ex-Service men and women.
Lateef Iqbal, 47 and from Farnham, opted to sign up to the mammoth 26-mile challenge after last year sustaining a knee injury which rendered him unable to partake in his extensive list of sporting interests. He says: "I injured my knee, a longstanding niggle that just wouldn't go away, and the MRI scan basically showed that I couldn't play badminton, couldn't play squash, couldn't swim or play football. The only thing the doctor said I could do was walk!"
Out of what Lateef describes as boredom, he signed up to the Richmond Half Marathon and Surrey Half Marathon. It was then that the long-distance bug bit. He explains: "After the Richmond and Surrey Half Marathons went well, I ended up signing up for a few more. If I'm honest, it was mainly out of boredom, but I soon got into them and decided to go for the ballot place for the London Marathon. I was shocked to then find out that I'd been successful!"
Lateef, who'll be both walking and running the event, first came to hear about Blind Veterans UK through his work at Specsavers, at which he's been working for over 17 years and for which he is the Director of their Camberley, Alton and Farnham branches. He says: "Many of my patients have received their support so I'm aware of the work they do in helping blind and vision-impaired veterans adjust to life after sight loss. I've witnessed first-hand how they help veterans regain their confidence and independence, it really is a fantastic charity and everyone who's involved speaks so highly of them."
Lateef is no stranger to supporting local causes, having ensured that his branches have maintained an active presence in their local communities. He says: "We are involved in almost every school in the area in some form of fundraising, whether that's children's cancer, youth choirs or the Surrey Youth games. We're also the main sponsors of the Surrey FA.  Generally speaking, our focus is on kids and activities as it's important that we encourage young people to spend as much time outdoors as possible."
Lateef, who is aiming to complete the course in five and a half hours, has already raised £700, £200 more than his initial target of £500. His strict training regime has already seen him complete the Hampton Court Half Marathon, the Surrey Half Marathon as well as the Fleet Half Marathon, while he's also set to compete in the Race to the King event, an eye-watering 53-mile challenge along the South Downs Way, in June. He says: "I'd just like to keep going and going and get as strong as possible!"
To support Lateef as he prepares to take on the London Marathon for Blind Veterans UK, please visit: justgiving.com/fundraising/LateefLondonMarathon.
Blind Veterans UK was founded in 1915 and the charity's initial purpose was to help and support soldiers blinded in WWI. But the organisation has gone on to support more than 35,000 blind veterans and their families, spanning WWII to recent conflicts including Iraq and Afghanistan.
For more than a century, the charity has been providing vital free training, rehabilitation, equipment and emotional support to blind and vision-impaired veterans no matter when they served or how they lost their sight. Visit blindveterans.org.uk/support to learn more about the charity and how you can support its vital work today.
For all media enquiries please contact: Felix Arbenz-Caines, PR Assistant, Blind Veterans UK, 12 – 14 Harcourt Street, London, W1H 4HD, E: Felix.Arbenz-Caines@blindveterans.org.uk, T: 020 7616 7941
Blind Veterans UK
Blind Veterans UK is a national charity that believes that no-one who has served our country should have to battle blindness alone. Founded in 1915, the charity provides blind and vision impaired ex-Service men and women with lifelong support including welfare support, rehabilitation, training, residential and respite care.
Find out more at: blindveterans.org.uk, follow us on Facebook at: facebook.com/blindveteransuk and on Twitter at: twitter.com/blindveterans.