A five-year-old from Cambridgeshire has raised hundreds of pounds for a military charity that helped him stay connected to his RAF father serving abroad.
Theo Lea-Hagerty with his father Flight Lieutenant Steven Hagerty at the 2019 Bournemouth Marathon Festival's Kids' Kilometer (left). The pair raised money by setting up a stall outside Houghton Primary School (right), which Theo attends.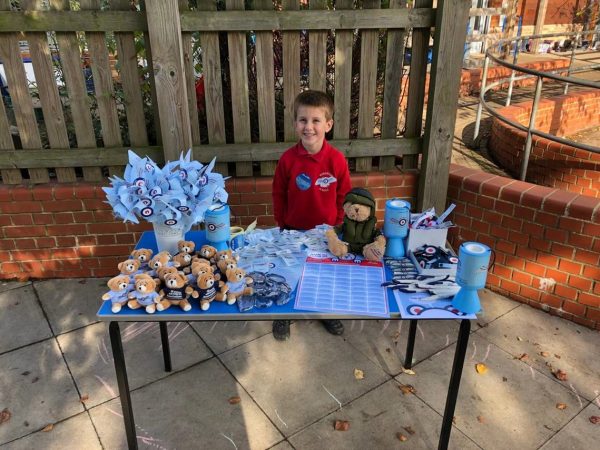 Theo Lea-Hagerty ran the Kids' Kilometer in Bournemouth (part of the Bournemouth Marathon Festival) this autumn, raising more than £300 for the Royal Air Forces Association. The charity supports the welfare of RAF personnel, veterans and their families.
When Theo was just 10 weeks old his father, Steven, a Flight Lieutenant, was helped by the charity to make a CD recording of a bedtime story – The Gruffalo. Steven was about to be posted to Afghanistan and wanted his baby son to hear his voice while he was away.
As part of the Storybook Wings initiative, the RAF Association provided Steven with professional recording equipment, an editing service (which included inserting music and sound effects), and the production of a specially-packaged story CD for Theo. Five years later, Theo still has the CD, which he now plays to his baby sister.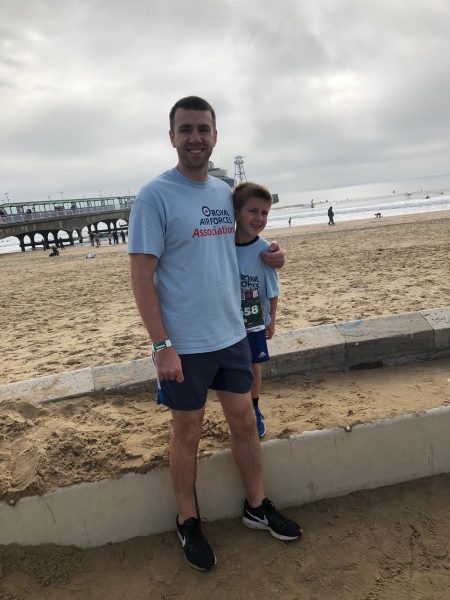 Theo's mother, Megan Lea-Hagerty, said:
"Theo became inspired to do the Kids' Kilometer when his Dad ran the Manchester Marathon for charity earlier this year. Theo told us he wanted to run in a competition himself, and ended up running the kilometer in six minutes and 13 seconds. We're so proud of him!"
Theo decided that he wanted the money he raised to go to the RAF Association so that more families like his could be helped.
Since the project began more than 10 years ago, Storybook Wings has recorded audiobooks for hundreds of children of RAF personnel serving away from home.
Flight Lieutenant Hagerty said:
"I'm thrilled that Theo is following in my footsteps by getting into running and raising money for charity.

"The RAF Association was there for our family when Theo was first born, and we love the fact that we can now play the bedtime story CD to his baby sister, Cara."
To donate towards Theo's fundraising efforts, visit: https://www.justgiving.com/fundraising/theo-lea-hagerty
For more information about the RAF Association, visit: www.rafa.org.uk
Media contact: Alex Scoppie, 0116 268 8755 or email alex.scoppie@rafa.org.uk     
About the Royal Air Forces Association
The Royal Air Forces Association (or RAF Association) is a membership organisation and registered charity that provides welfare support to the RAF family.
The Association recognises that RAF personnel and their immediate families dedicate their lives to their country, and we believe that such a sacrifice should not result in suffering, poverty or loneliness.
Whether it's an injured airman or woman fighting to get back on their feet, a young child missing their parent away on overseas operations, or a World War II veteran needing a shoulder to lean on, we are here to help all generations of RAF personnel and their families.  We also support serving families if they need us. We give practical, emotional and financial support.
Our membership of 74,000 includes serving RAF personnel, veterans and members of the public who want to show their support for the work that we do.
Across the UK in 2017 the Association carried out more than 115,000 welfare contacts, calls and visits, helped tell thousands of bedtime stories to children whose parents were away on operations, and gave tailored holidays to 2,500 RAF veterans, widows and family at our Wings Breaks hotels.
Our support ranges from simply providing conversation and friendship to preparing and submitting application forms for financial assistance.