SSAFA, the Armed Forces charity is seeking dynamic and enthusiastic individual to join their team and help support the local Armed Forces community.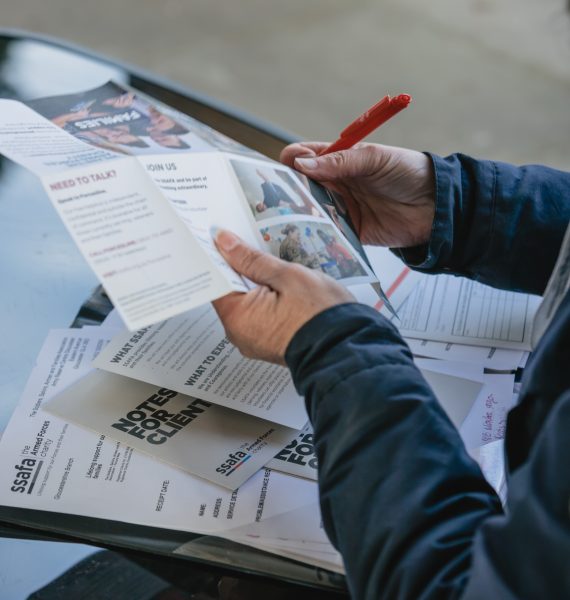 SSAFA Gloucestershire is seeking a Branch Administration Co-ordinator to help provide vital support to members of the Armed Forces community.
This exciting volunteer role will be responsible for providing administrational support to the Branch and would suit someone looking to make a difference in their local community. As well as having a willingness to learn, they must be aged over eighteen and be able to commit to 2-3 days a month.
• Overseeing enquiries: Overseeing the administration of the branch shared email inbox and post, ensuring queries are answered.
• Getting people together: Organising internal meetings, both virtually and face to face
• Planning and organising: Liaise with internal and external stakeholders to arrange events such as the Branch Annual General Meeting
• Note taking and recording: Maintaining accurate records of meetings and decisions
• Communicating: Supporting the Branch Chair with internal communications, keeping other volunteers up to date and informed.
• Tracking and ordering: Keeping a record of branch assets, ordering stationery and ensuring maintenance of equipment Supporting health and safety:
• Supporting the Branch Chair with administration of personal, office and event risk assessments where required
All backgrounds and experiences are welcomed, and a military background is not essential.
SSAFA is the UK's oldest national tri-service military charity providing financial, practical, and emotional support to serving personnel, veterans, and their families across the UK and worldwide. The charity's network of thousands of volunteers is crucial in supporting those in need of help within the military community.
Laura Lewin, Regional Operational Support Manager at SSAFA explained:
"This is an excellent opportunity for someone who is wanting to make a real positive difference to their local Armed Forces community. Here at SSAFA, we provide full training and are keen to enhance the skills of all our volunteers through a variety of courses, both available online and in person. This role is varied, flexible and very rewarding."
To find out more about this role please contact Laura Lewin at laura.lewin@ssafa.org.uk or visit ssafa.org.uk/Gloucestershire