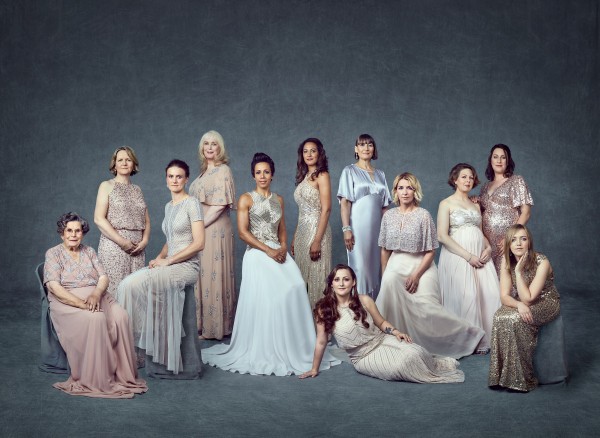 SSAFA, the Armed Forces charity, is celebrating 100 years since women were legally permitted to serve in the British military.
This July marks the centenary of the formation of the Women's Army Auxiliary Corps (WAAC), the first time women were formally enrolled in the UK Armed Forces. Back then, women's roles involved cooking, administration and mechanical work.  Today, one hundred years on they stand shoulder to shoulder with their male counterpart, with close combat roles in the Royal Marines, Royal Armoured Corps, infantry and Royal Air Force Regiment opening up to them last year.
To mark the anniversary and 100 years' worth of contribution, SSAFA has commissioned renowned war photographer Robert Wilson to create an iconic image of currently serving women and veterans from the Royal Navy, British Army and Royal Airforce, including Olympic gold medallists Dame Kelly Holmes and Heather Stanning OBE.
Over the past 100 years, British females have served alongside men in almost 50 wars and conflicts, including World War One, World War Two, the Falkland's War, the Gulf War, Afghanistan, Iraq and, most recently, the Libyan Civil War.
The twelve women photographed include the first woman to kill in combat, the highest-ranking woman in the British Army, the first transgender woman to serve, who began her career in the Royal Air Force as a man and a 95-year-old veteran who worked as a bomb site inspector in World War Two.
Sir Andrew Gregory, chief executive, SSAFA, the Armed Forces charity, says:
"Women have been officially serving our country for a century.  SSAFA, the Armed Forces charity has been in existence for 132 years and has witnessed the evolution of the roles available for females within the military.
"We must take a moment to pause, reflect and celebrate their contribution as this milestone approaches.
"It is essential that we continue to promote inclusivity and diversity throughout our Armed Forces in order to benefit from the talent that exists across British society."
War photographer, Robert Wilson, says:
"It was an honour to be asked to create an image to mark the 100 year anniversary of women enlisting in the UK Armed Forces and it was an absolute pleasure working with these twelve incredible women.   SSAFA, the Armed Forces charity does such fantastic work supporting the family members of and those that have served our country in historical and recent conflicts."
Commenting on the launch of the campaign, Double Olympic Champion Kelly Holmes, who served in the British Army for ten years, said:
"One of my earliest ambitions was to join the Army and win an Olympic gold medal and I was certain that being female wouldn't stop me from doing either.  I am so proud to have served my country and serve alongside so many inspirational women.
"I was really pleased to join SSAFA's celebration of women in our Armed Forces.  They have been there since the very beginning and have supported serving women, veterans and their families ever since.
Double Olympic Rowing Champion Heather Stanning, who is currently serving as a Major in the Royal Artillery, also said of the campaign:
"The rate of evolution for women in our Armed Forces is phenomenal.  It is remarkable to compare the types of jobs women did in 1917 with what they do now."
"I am honoured to join SSAFA, the Armed Forces charity in its celebration of 100 years of women in our Armed Forces.  As one of the oldest military charities, SSAFA was there for the first woman who signed-up and will continue to be there for women in the future."
For more information about SSAFA, the Armed Forces charity, visit www.ssafa.org.uk
THE WOMEN (left – right)
Rose Watson: Orderly in the Auxiliary Territorial Service
Rose Watson (95) signed up to the Auxiliary Territorial Service in February 1939 at the age of 17. Rose had to lie about her age because she was legally too young to join. On the day that the war broke out, 1st Sept 1939, Rose was called up to serve in Territorial Army 66 Leeds Rifles as an orderly. On request of her sergeant, she was later 'elevated' to work as a cook and continued in this role until 1945.
Wing Commander Kirsty Bushell: SSAFA Vice Chairman
Wing Commander Kirsty Bushell, 47 joined the RAF directly from school and served for 24 years. Kirsty's first posting as part of 41(F) Squadron was to Germany as an Intelligence Officer.  She then moved on to work in Europe, America and British Forces Cyprus, before returning to the UK to oversee the personnel and welfare service. Kirsty became Vice Chairman of SSAFA, the Armed Forces charity, in July 2012.
Major Heather Stanning OBE: Double Olympic Gold Medallist
Heather Stanning, 32, is a Major in the Royal Artillery. Together, Heather and Helen Glover became the first female rowers to win an Olympic Gold Medal in London 2012 and successfully defended their Gold Medal in Rio in 2016. Following her Olympic win in London 2012, Stanning reported back to her Regiment and resumed her British Army career. She was posted to Helmand Province in Afghanistan where she worked as an Operations officer as part of a six-month operational tour.  Heather retired from rowing last year and continues to serve in the British Army.
Flight Lieutenant Caroline Paige: First Transgender Officer to Openly Serve in the UK Armed Forces
Flight Lieutenant Caroline Paige, 57, joined the RAF in 1980 as a Fast Jet and Battlefield Helicopter Navigator. In 1999, she became the first transgender officer to transition and serve openly in the UK Armed Forces. She served the following 16 years as a female officer.
Sergeant Dame Kelly Holmes, DBE: Double Olympic Gold Medallist
Dame Kelly Holmes, 47, joined the Army at the age of 18 as a lorry driver in the Women's Royal Army Corps (WRAC). She later became an Army Physical Training Instructor (PTI) in the Royal Army Physical Training Corps, and served for 10 years. Kelly became a full-time professional athlete in 1997, which led to her becoming a double gold medal-winner at the 2004 Athens Olympics.
Flight Lieutenant Nosheen Chaudry: Toured with The Red Arrows
Flight Lieutenant Nosheen Chaudry started her military career on a Rotary Aircraft, before carrying out a tour at RNAS Yeovilton and RAF Odiham as Officer Commanding Armament Engineering Flight. Following this, Nosheen did a tour with the Red Arrows as Officer Commanding Engineer Support Flight before joining the 12 Squadron (Tornado Aircraft) as their Junior Engineering Officer. She is now an Aerosystems Engineering Officer.
Able Rate Sara Jones: Works on the HMS President
Able Rate Sara Jones, 25 has served in the Royal Navy for the past seven years as a writer.  Her role involves overseeing HR, legal matters, finance and the welfare of the crew mates. She previously worked on the Starboard Crew of a Vigilant Class submarine at Faslane on board HMS Ocean during the London 2012 Olympics. She now works at  HMS President, which is docked in St Katherine's Dock in London.
Major General Susan Ridge: The Army's Highest-Ranking Woman
Major General Susan Ridge joined the Army in 1992, and was the only female in her battalion. She is the Army's highest ranking female officer and is still serving as Director of General Army Legal Service.
Sergeant Chantelle Taylor: First Female to Kill in Combat
Sergeant Chantelle Taylor, 41, joined the British Army at the age of 22 as a Combat Medical Technician. In 2008, she embarked on her second tour to Camp Bastion Hospital in Helmand province in Afghanistan with the Royal Army Medical Corps. Chantelle was on patrol when she was ambushed by Taliban fighters, and was forced to fire on a combatant during the kill-or-be-killed encounter. As a result, Chantelle became the first British female soldier to kill an enemy fighter.
Petty Officer & Naval Reservist Natalie Corney: Royal Navy Reservist
Natalie works at Brent County Council and a Royal Naval Reservist. Natalie became a Naval Reservist in 2001 and was mobilised in March 2009.  She deployed for a year to undertake ship protection duties in the Gulf.
Abbie Colvin: Army Combat Medic
Abbie Colvin signed up to become a combat medic at the age of 21. In 2008, Abbie was deployed to Afghanistan, where she met Sergeant Chantelle Taylor who she credits to be one of the people she learnt most from in her career. In September 2010, Abbie began studying to become a Registered Nurse and was deployed to Sierra Leone during the Ebola crisis in 2014. Abbie is due to have her second child in August.
Able Seaman Lynsey Hellier: Navy Chef
Able Seaman Lynsey Hellier, 23 has been serving in the Royal Navy for five and a half years as a chef. She previously served in the Baltic and with the Royal Marines. In September, Lynsey will branch transfer and begin a degree course in Adult Nursing to become a fully-qualified Naval Nurse.
–     Ends    –
Notes to editors
About SSAFA:
SSAFA, the Armed Forces charity (formerly known as the Soldiers, Sailors, Airmen & Families Association), provides lifelong support to anyone who is currently serving or has ever served in the Royal Navy, British Army or Royal Air Force, and their families. This includes both regulars and reserves.
SSAFA, the Armed Forces charity, has been providing lifelong support to our Forces and their families since 1885. Every year our staff and team of volunteers help more than 60,000 people, from Second World War veterans to young men and women who have served in Afghanistan and Syria.
For more information visit www.ssafa.org.uk and follow us on Twitter: @SSAFA