Op Chastise – The Dambusters Raid carried out by the newly raised No. 617 Squadron RAF on 16 to 17 May, 1943 remains one of the most audacious attacks of WWII.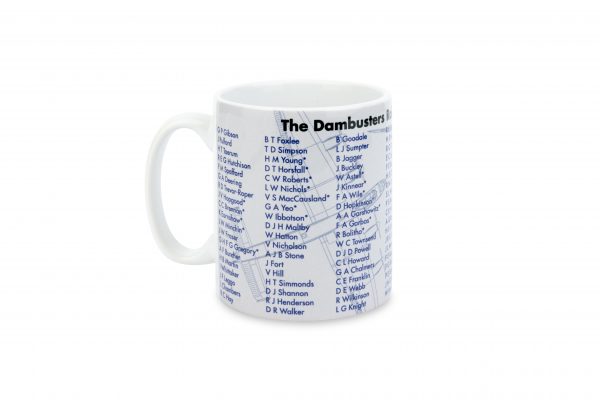 Led by 24-year-old Wing Commander Guy Gibson, a flight of 19 Lancaster bombers – based at Lincolnshire's RAF Scampton – containing 133 young men crawled into the sky before dropping to fly nap of the earth to their targets, the dams of the Ruhr Valley.
Fifty-three men died during the raid with the loss of eight aircraft. Many more men of 617 Squadron – forever known as "The Dambusters" (motto: "Après moi le déluge" or "After me, the flood") died before war's end, including Gibson. As recently as 2019, two aircrew – Canadian Fred Sutherland and George "Johnny" Johnson were alive.
They are now all gone, but with the 80th anniversary of the raid approaching, the 133 aircrew of that original 617 Squadron – men of the Royal Canadian Air Force, The Royal Australian Air Force, the Royal New Zealand Air Force, as well as the RAF – have been reunited.
The names of all 133 appear – with the plans of the famed Avro Lancaster overlaid – on a mug now in the online store of SSAFA, the Armed Forces charity. Poignantly, the name each man lost on the raid is highlighted.
Whether a collector's piece to be cherished or an everyday mug for a favourite brew, it will make an important addition to any display cabinet or breakfast table, but it is sure to sell fast.
Priced at £10.99, all proceeds will go to SSAFA to allow it to continue its works with WWII veterans as well as those of more recent conflicts, serving personnel , and their families.
To order, visit ssafastore.org.uk/the-dambusters-raid-mug.