SSAFA, the Armed Forces charity are delighted to receive a £25,000 grant towards their Emergency Covid-19 Response from The National Lottery Community Fund's Glasgow team.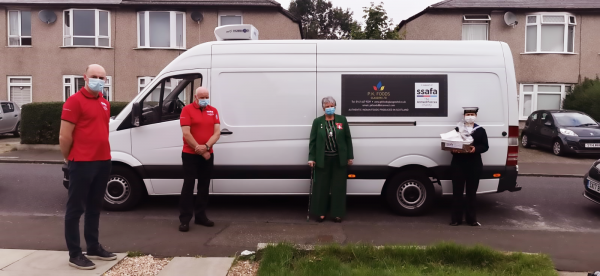 The funding will go towards SSAFA's Glasgow Branch and Glasgow's Helping Heroes service, both of which support serving personnel, veterans and their families who are living in the area.
Glasgow's Helping Heroes usually operates a walk-in welfare consultation centre for veterans and their families. It works in tandem with the charity's local volunteer-lead SSAFA branch alongside further branches in the surrounding area of Scotland.
As a result of Covid-19, the two offices located in Govan and Toryglen – which are historically extremely busy – have been forced to close. Despite this, the charity is unsurprisingly experiencing a surge in demand and remain fully operational, supporting clients predominantly on a remote basis.
The pandemic has exacerbated existing concerns and raised new ones within the veteran community. Many SSAFA clients are elderly and/or have underlying health conditions and disabilities that require them to self-isolate. SSAFA is ensuring that they continue to receive the support and guidance that they need at this particularly challenging time.
Sir Andrew Gregory, Controller at SSAFA, the Armed Forces charity, said:
"This exceptionally generous grant from The National Lottery Community Fund will help our committed volunteers and staff to support the independence and dignity of even more members of the Armed Forces in Glasgow. The Covid-19 pandemic has meant that our help and support is needed now more than ever before, and we are proud to say that we have remained poised and ready to help throughout the crisis. It is thanks in part to organisations such as The National Lottery Community Fund that we are able to make this positive difference to the lives of so many."
The National Lottery Community Fund, Scotland Chair, Kate Still:
said: "In these unprecedented times, it's heartening to see the way Scottish communities are coming together to provide each other with support.   I would like to congratulate SSAFA, the Armed Forces charity on their award which is testament to the incredible efforts of their staff and volunteers. National Lottery players can be proud to know that the money they raise is making such a difference."