SSAFA's Norton House Stanford Hall officially opened on Tuesday 28th May in Loughborough, Leicestershire. 
Norton House, Stanford Hall has been welcoming families since Autumn 2018,  but was officially opened on Tuesday 28th May by Lady Carter, Vice President of SSAFA, the Armed Forces charity.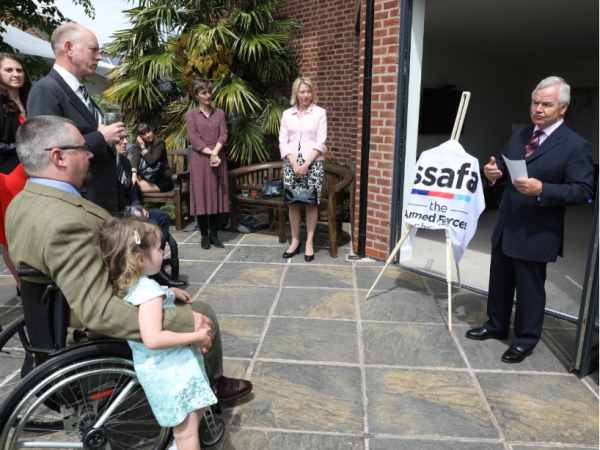 The house provides free, safe and supportive accommodation to families whose loved ones are receiving treatment for injuries at the nearby Defence Medical Rehabilitation Centre.
Norton House also provides a haven for those being treated, to allow them a break from the hospital environment, as well as having peace of mind knowing their families are in a safe and supportive environment.
The name of this new family accommodation reflects the Norton House legacy set up by SSAFA in 2008 in response to a campaign led by Major Peter Norton's family, after he was injured whilst serving in Iraq.
Sir Andrew Gregory, CEO at SSAFA, the Armed Forces charity said: "We are proud to be continuing on from a successful decade of care with a new Norton House. Ensuring that military personnel, veterans and their families are given the help that they deserve as they undergo the challenging rehabilitation process is a key part of SSAFA's remit. Norton House, Stanford Hall represents a new era of vital support, with emotional welfare remaining at the heart of the service. We hope that news of this official opening spreads and reaches those who may be in need of our assistance."
SSAFA, the Armed Forces charity, would like to thank:
BAE Systems donated £150,000
Louise Baverstock-Price, Group Head of Community Investment at BAE Systems, said: "BAE Systems is committed to the Armed Forces, it lies at the very heart of what we do as a company. As a signatory to the Armed Forces Covenant, we are proud to support SSAFA's Norton House facility aiding the rehabilitation of our service personnel."
Army Central Fund donated £100,000 towards conversion and £255,000 towards running costs over the next four years
Julian Panton said: ''The Army Central Fund values its long association with SSAFA.  We are delighted to contribute towards the costs of the brilliant care and support at Norton House which helps Army families get through the most challenging times''
The Great War Symphony donated £83,000 from their premiere performance
Patrick Hawes, composer, said: "I wrote The Great War Symphony as a musical monument to those who gave their lives in the First World War. It was therefore a perfect fit and honour to partner with SSAFA; the tri-service charity who performed such important work throughout The Great War that continues right up to the present day.  We're incredibly proud to have been able to play a part in raising awareness of its crucial work, and to help financially with the Norton House facility."
ABF The Soldiers' Charity provided £59,251
Brigadier (Ret'd) Robin Bacon, Chief of Staff ABF The Soldiers' Charity added: "We are delighted that Norton House Stanford Hall is now open. It is vital that we not only support our soldiers, but also their families. Norton House will give them a home away from home to help with their emotional welfare while visiting loved ones who are undergoing rehabilitation at the DNRC. Having a supportive environment and free accommodation for loved ones is crucial to keep day-to-day stresses as low as possible."
SSAFA Carol Concert Committee – £50,000
Swire – £50,000
Barbara Naylor Charitable Fund – £20,000
Royal Navy and Royal Marines Charity – £20,000
RAF Benevolent Fund – £10,000
SSAFA, the Armed Forces charity provides lifelong support to anyone who is currently serving or has ever served in the Forces, and their families. This includes both regulars and reserves.
Notes to editors:
SSAFA, the Armed Forces charity, has been providing lifelong support to our Forces and their families since 1885. Last year our teams of volunteers and employees helped more than 82,000 people in need, from Second World War veterans to young men and women who have served in more recent conflicts, and their families. SSAFA understands that behind every uniform is a person. And we are here for that person – any time they need us, in any way they need us, for as long as they need us.
For more information visit www.ssafa.org.uk and follow us on Twitter: @SSAFA.