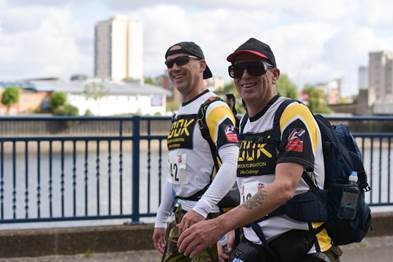 A blind veteran from Bury St. Edmunds is preparing to embark on a 100 kilometre walking challenge for Blind Veterans UK, the national charity for vision-impaired Service men and women.
Colin Penaluna, 55, will be taking on the challenge for the second time with his guide, Russell Deamer, an advertising professional from Burgess Hill, Sussex, with whom Colin has previously conquered the immense challenge.
Despite last year's triumph, Colin and Russell have their sights set on beating their previous time of 24 hours and 29 minutes, while making sure that certain traditions are honoured. He says: "If all goes to plan, we'll shave a good few hours off our previous time. We're also looking forward to continuing our tradition of belting out some Elvis Presley classics in the early hours of the morning to keep up morale!"
Colin began his military career in 1978, when he joined the Royal Regiment of Fusiliers. He served across the world, including Cyprus, Northern Ireland, Canada, Germany and the UK before being discharged as a Lance Corporal in 1986. Forever an active and sporty presence in the Army, he played football, cricket, boxing and hockey and won the Northern Ireland trophy for basketball for his battalion.
Colin stopped playing sport when he lost his sight in 2005. He also gave up driving as he has no peripheral vision. He says, "My eyesight is like a horse wearing blinkers. I can't see pushchairs and children that are a few feet away."
Colin started to receive support from Blind Veterans UK in 2015. The charity has provided him with a tablet computer and IT training, and is helping him regain his fitness. In 2015, he completed the Great South Run – a 10-mile race in Portsmouth – with a sighted guide and now plans to tackle the London to Brighton 100k challenge for the second time.
He says, "I want to be sporty and fit again, and the 100k walk is a big piece of getting that part of my life back. Hopefully, in the next couple of years I can do a Triathlon too. That's a one-mile swim, a 42-kilometre tandem bike ride, a 10-kilometre run and then one incredible night's sleep!"
Registration for the 100k, which will kick off in Fulham on Saturday 1 July, is currently open with a registration fee of £62.50 for the 100km. For those not wanting to walk the full distance there is also a relay option available for teams of four walking 25k each. Teams taking part in the relay have a registration fee of £110. The all-inclusive entrance fee for participants includes lunch, dinner and breakfast at three rest stops, snacks and refreshments along the route and a free event t-shirt.
The London to Brighton 100k challenge is Blind Veterans UK's biggest annual fundraiser and takes participants from a starting point in south west London, along the banks of the Thames, through countryside paths in Surrey, Sussex and the North and South Downs to the charity's centre in Ovingdean, Brighton.
To support Colin as he prepares to take on the 100k for Blind Veterans UK, please visit https://www.justgiving.com/fundraising/ColinPenaluna.
To sign up for the Blind Veterans UK 100k, please visit www.blindveterans.org.uk/100k.
For all media enquiries please contact: Felix Arbenz-Caines, PR Assistant, Blind Veterans UK, 12 – 14 Harcourt Street, London, W1H 4HD, E: Felix.Arbenz-Caines@blindveterans.org.uk, T: 020 7616 7941
Notes to Editor
Blind Veterans UK
Blind Veterans UK (formerly St Dunstan's) is a national charity that believes that no-one who has served our country should have to battle blindness alone. It provides blind and vision impaired ex-Service men and women with lifelong support including welfare support, rehabilitation, training, residential and respite care.
The charity needs £100 million over 5 years to provide lifelong support to blind ex-Service men and women. Find out more at: www.blindveterans.org.uk, and follow us on Facebook at: www.facebook.com/blindveteransuk and on Twitter at: twitter.com/blindveterans.