Suffolk-based veteran, Mandy Small, has written and published a book that aims to share her own experience of losing her veteran husband to suicide after he left the Forces in 2013.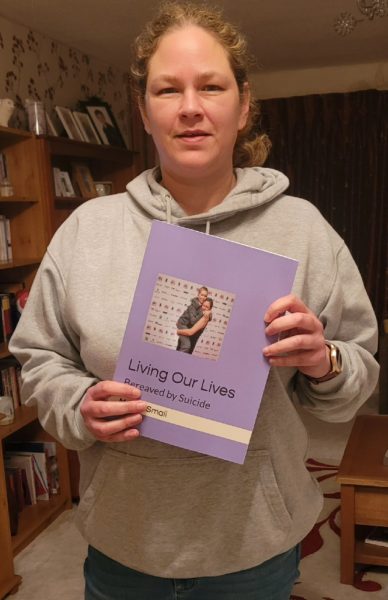 The book titled 'Living Our Lives: Bereaved by Suicide' was released on 6 February 2022. Within these poignant pages, Mandy and her son Jamie share how their lives have changed forever following the death of their husband and father.
Having served 21 years in the Royal Logistics Corps as a chef, Chris Small had found himself posted to many major conflicts during that time, including Afghanistan and Iraq. But after his second tour of Afghanistan, Mandy claims that Chris returned home a different man. He struggled to adapt to life outside the military, and just two years after he left the Forces, Chris sadly took his own life, leaving Mandy and Jamie behind.
Following his death, Mandy, who had served 12-years in the RAF Police turned to SSAFA, the Armed Forces charity for support. SSAFA was able to help with counselling for Jamie and supported with funeral costs. Over time Mandy and her young son Jamie began to process what had happened and begin to move on with their lives. Six years on Mandy hopes that this book can be an inspiration to others that are experiencing similar tragedies.
Mandy said,
"I hope the book will raise awareness around suicide and mental health and lessen the stigma. SSAFA has its own chapter in the book because they played such a big part in helping me and J get through this, I would also like to thank Sue Cross, the SSAFA caseworker that helped me throughout my grieving process."
At its core 'Living Our Lives: Bereaved by Suicide' is about showing others that it is possible to live again, and to even excel. Jamie continues to be an inspiration to others through his fundraising endeavours and even won the Family Values category at the Soldiering On Awards in 2019.
Living Our Lives: Bereaved by Suicide by Mandy Small is available to purchase at Amazon.co.uk