On Saturday 6 July, Care for Veterans opened its doors for its annual Summer Fayre. This year was extra special as the charity celebrates its centenary.
Hundreds of visitors came to support the day and a fantastic £7,309 was raised for the charity! Guests enjoyed live performances by the RBL Lancing Brass Band, the marching band of TS Implacable, the Care for Veterans Choir, and also had their photographs taken with Storm Troopers from the Iconic Legion, viewed the amazing WWII Motorbikes and a display of classic vintage cars, as well as browsing the many stalls.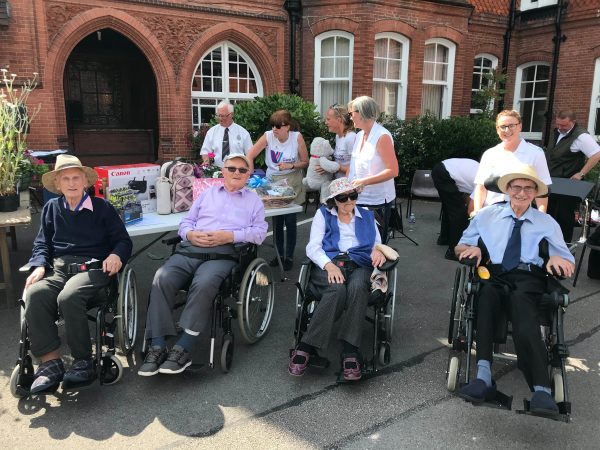 Guests were welcomed to the event by Town Crier Cllr Bob Smytherman and the Mayor of Worthing spoke in support of the charity. The event was officially opened by Care for Veterans' Patron and BBC Royal Correspondant, Nicholas Witchell followed by a performance by the Band of TS Implacable, who marched down Boundary Road and entered Care for Veterans via the main gate as all the visitors gathered to watch.
Senior Fundraiser at Care Veterans, Christine Gillott, said:
"The Summer Fayre is a chance for us to invite the community in to see our facility and mingle with our veterans, as well as raising vital funds so that we can continue our first-class care and rehabilitation of veterans, many of whom are facing the toughest battle of their lives.

"I'd like to thank everyone who came along to the fayre, and special thanks to all the stallholders, sponsors, entertainers, volunteers, Care for Veterans' residents and staff for helping make the day a huge success. The £7,309 will be very well spent on the veterans in our care."
The Summer Fayre is held to raise money for the Worthing-based charity, which, since 1919, has provided residential nursing care, rehabilitation, respite and end of life care to physically disabled ex-Service personnel and their families.
About Care for Veterans
Care for Veterans (formerly The Queen Alexandra Hospital Home) was established in 1919 – the charity celebrates its centenary this year.
Care for Veterans is a registered charity, providing care and rehabilitation for physically disabled ex-Service personnel and their families. Our residents' needs are complex and many have multiple disabilities. Many have an Acquired Brain Injury and some have neurological disorders such as Parkinson's or Multiple Sclerosis. Others are paralysed or do not have use of their limbs and some are terminally ill. We support on average 140 residents a year.
We care for up to 60 residents at any one time.
Our residents are aged between 34 and 100.
Our residents represent the tri-services: Royal Navy, Army and RAF.
Services at Care for Veterans include nursing, physiotherapy, occupational therapy, speech and language therapy, an active social and recreation department, rehabilitation kitchen, a chaplaincy service, counselling, IT facilities, a rehabilitation garden, sensory room, function room, and regular outings on our specially adapted coach.
With no regular government funding, Care for Veterans must raise over £1.9 million each year to maintain its nursing and rehabilitation services for ex-Servicemen and women.
Care for Veterans
Gifford House, Boundary Road, Worthing, West Sussex, BN11 4LJ
Telephone 01903 218444
www.careforveterans.org.uk
fundraising@careforveterans.org.uk
Registered Charity No: 1072334