Sally Orange, from Salisbury, long-time fundraiser for SSAFA, the Armed Forces charity, will be running the 777 next week (starting on 31 January). The 777 is a super-challenge where participants run seven marathons on seven different continents within seven days.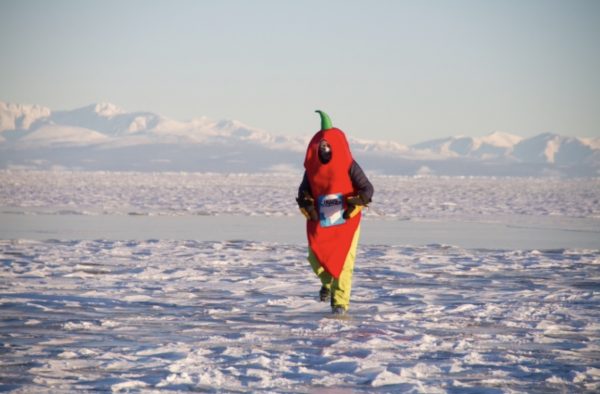 Competitors must run the standard marathon distance of 42.2km in Antarctica, South America, North America, Europe, Africa, Asia and Australia within 168 hours, making this a logistical challenge as well as a physical one. Starting in Antarctica Sally will then run in Cape Town, Perth, Dubai, Madrid and Fortaleza before completing her final marathon in Miami.
More people have stood on top of Everest than have completed the World Marathon Challenge and Sally will become just the fifth British woman and first female military veteran to have undertaken this incredible achievement.
Sally is a former British Army Major and she served for 22 years in the Royal Army Medical Corps as a Physiotherapy Officer. Since leaving the armed forces, she has become an adventurer and endurance racer, raising money for countless charities over the last few years, often dressed as fruit!
Having faced her own challenges with severe depression and chronic anxiety Sally strives to raise awareness and help remove the associated stigma. In all her activities she encourages others to manage their own mental well-being through healthy eating, physical activity and a positive mindset.
Sally says:
"One of my biggest challenges is going to be the sleep deprivation, especially after running the first 2 marathons within 24hrs in Antarctica and then Cape Town!

"There will be times when I'll be running in the middle of the night or possibly the heat of the day, because as soon as the plane touches down, it'll be a case of getting off, running a marathon and then getting back on the plane

"What will keep me going though, is the knowledge that I will continuing to destigmatise mental illness, which means people won't feel ashamed about talking about it like I did.  They can then get the help they need much sooner and learn how to manage their mental health better."
Sally is continuing the number theme and aims to raise £7,000 for seven different charities, including SSAFA.
Support Sally here: https://www.justgiving.com/crowdfunding/sally-orange-wmc