Staff and customers at Sainsbury's Littlehampton have helped to raise £6,310 for Worthing-based charity, Care for Veterans.
The supermarket adopted the 100-year-old charity as its Charity of the Year, and during the past 12 months, it has donated products for events, supported the Care for Veterans' Centenary auction by donating prosecco, and held a fun quiz and treasure hunt evening to raise funds.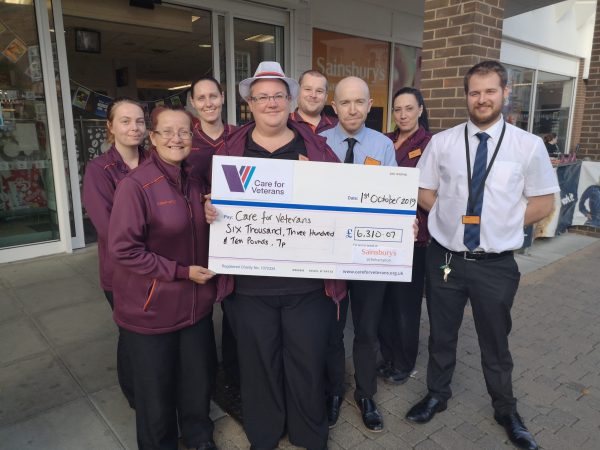 Care for Veterans also held in-store bucket collections throughout the year and attended Carers Awareness Week.
This week, Store Manager, Stuart Lindsey, and colleagues presented the cheque to Care for Veterans.
Care for Veterans' Senior Fundraiser, Christine Gillott, said:
"Thank you to all staff and customers at Sainsburys Littlehampton. You have been so generous to raise such a fantastic amount. It was a great opportunity to introduce so many people to Care for Veterans, and the work we do to support and rehabilitate the veterans in our care."
About Care for Veterans
Care for Veterans (formerly The Queen Alexandra Hospital Home) was established in 1919 – the charity celebrates its centenary this year.
Care for Veterans is a registered charity, providing care and rehabilitation for physically disabled ex-Service personnel and their families. Our residents' needs are complex and many have multiple disabilities. Many have an Acquired Brain Injury and some have neurological disorders such as Parkinson's or Multiple Sclerosis. Others are paralysed or do not have use of their limbs and some are terminally ill. We support on average 140 residents a year.
We care for up to 60 residents at any one time.
Our residents are aged between 34 and 101.
Our residents represent the tri-services: Royal Navy, Army and RAF.
Services at Care for Veterans include nursing, physiotherapy, occupational therapy, speech and language therapy, an active social and recreation department, rehabilitation kitchen, a chaplaincy service, counselling, IT facilities, a rehabilitation garden, sensory room, function room, and regular outings on our specially adapted coach.
With no regular government funding, Care for Veterans must raise over £1.9 million each year to maintain its nursing and rehabilitation services for ex-Servicemen and women.