A team of UK Armed Forces veterans is preparing to give back to Deptherapy with a 24 hour dive to raise much-needed funds for the scuba diving charity. The 24 hour dive, which will take place from midday on 16th March to midday on 17th of March 2019, is the brainchild of Deptherapy Programme Members Ben Lee and Tom Oates.
Former Royal Engineer Ben Lee lost both his legs whilst serving in Afghanistan in 2011. Despite an extreme fear of water stemming from a near-fatal childhood accident, Ben was introduced to scuba diving through Deptherapy on a training programme in Egypt in 2016, and credits the experience with changing his life. Ben was awarded the prestigious Recognising Achievement Award by the Royal Foundation's Endeavour Fund in 2018 and inspires others to overcome their challenges as a Trustee of Deptherapy.
Tom Oates was in the Scots Guards when his vehicle was struck by an IED in Afghanistan. When he returned home, he was crossing the road with his girlfriend when she was hit and killed by a car. Tom suffers from complex PTSD, has tried to take his own life, and needs a high level of support, but underwater his demons disappear. Through Deptherapy, Tom is achieving his dream of becoming not only a Scuba Diving Instructor but also a Marine Biologist.
Ben says:
"Deptherapy is an amazing charity that does so much for so many, with so little in the way of funds. From the minute I learnt to breathe underwater, Deptherapy set me on an incredible scuba diving journey that has opened up a whole new world to me. Many of the charity's Programme Members would not be here if it were not for the support of the Deptherapy family. With this 24 hour dive, we hope to raise a significant amount of money to allow the charity to help as many other injured veterans as possible."
Well-known dive centre and retailer Robin Hood Watersports has pledged their support for the Deptherapy 24 hour dive and the event will take place at their swimming pool in Heckmondwike, West Yorkshire.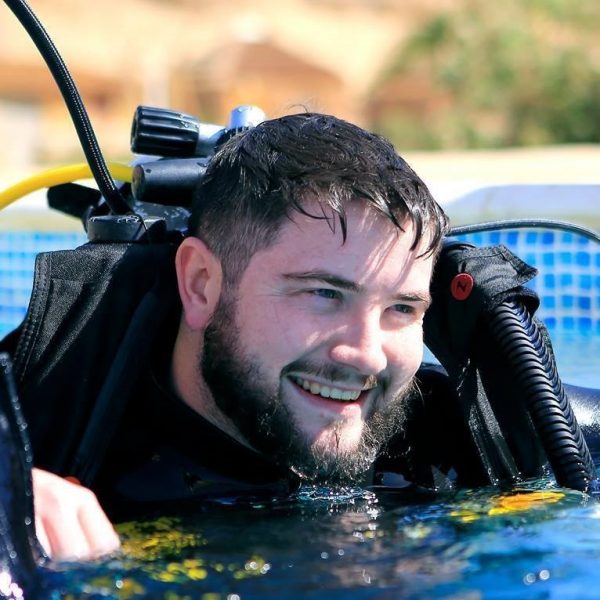 A team of around 30 divers including veterans, Deptherapy volunteers and ROHO staff is expected to complete the 24 hour dive. They aim to raise in excess of £5,000 for the charity, and the money will be used to help fund a Deptherapy expedition or training course for new veterans in the Red Sea.
A special fundraising page has been set up for the Deptherapy Dive Team 24 Hour Dive at Just Giving. Please link to the page here: https://www.justgiving.com/fundraising/deptherapy24hour.
Please donate and help support the excellent work of Deptherapy, changing and saving lives through scuba diving.
Find out about the work of Deptherapy & Deptherapy Education at www.deptherapy.co.uk
Notes for Editors
Deptherapy & Deptherapy Education is an English Charity registered with the Charity Commission. It seeks to rehabilitate UK Armed Service personnel and veterans who have suffered life changing mental and/or physical challenges through specially designed Scuba Diving Programmes. It also provides 24/7 support to Programme Members. Deptherapy is widely respected for changing the lives of those who come on the Programme. Many Programme Members have suffered limb loss and or acute mental illness. 80% of Programme Members suffer from PTSD or other acute forms of mental illness. The charity also provides education in adaptive scuba diving techniques to Dive Professionals.
For further information and / or images, please contact:
Jane Herbert – Associate Director Media & Communications – Deptherapy
jane@aquamedia-online.com / 07742 647800
Richard Cullen – Chairman – Deptherapy – ops@deptherapy.co.uk / 07786 361196