The sight of a Star Wars Stormtrooper brandishing his DLT-19 Heavy Blaster Rifle (which looks nothing like an MG 34) at a railway station might seem a little unusual, but not when it is Liverpool Central Station, and the soldier of an evil galactic empire is a fundraiser for the Merseyside branch of SSAFA, the Armed Forces charity.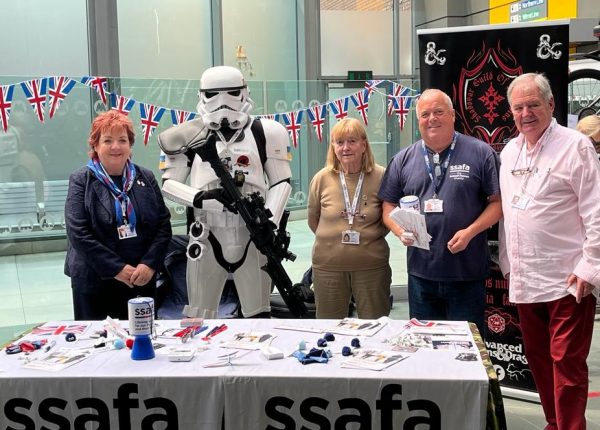 Within the white armour is SSAFA volunteer Delroy Williams, and although his helmet precludes him being called a "familiar face", he – and others of local costuming group the Shadovar Guild of Assassins – regularly support the branch at events.
Tony Brougham, Merseyside Branch Fundraiser, said:
"It's fair to say that Delroy and others from his group create a lot of interest, and help raise a lot of funds, for SSAFA when they appear, and on behalf of all in the branch and those veterans, serving personnel, and their families we support, I am happy to say a big 'thank you' to them – as well as staff at the station.

"But I've got to express my gratitude to the good people of Liverpool and elsewhere who passed through the station and donated money to SSAFA.

"Everyone is feeling the pinch these days, but their generosity means SSAFA Merseyside can carry on supporting our Armed Forces community when, where, and how they need it, just as we have for 137 years."
For more information, including how to volunteer and fundraise for SSAFA, or to access its support, visit ssafa.org.uk/merseyside.