Every year the charity invites beneficiaries, like Clive Welch, 87 and from Ashford, who would otherwise be alone at Christmas, to spend the festive period at one of its training and rehabilitation centres.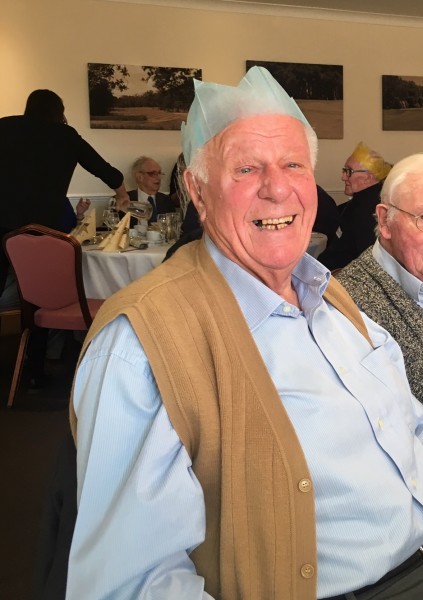 Clive joined the Royal Engineers in 1948 and served for five years, during which he spent a significant time in post-war Germany as hydraulic engineer.
He says: "I was working with earth-moving equipment and my job was looking after the bulldozers which made football pitches for the Germans. The youngsters were a bit of trouble, and it gave them something to do, to have a kick about!
"It was a lovely job – each time we completed a football pitch they gave us a good party. We were always taken to go and see the football matches being played on the pitch. We had a good time there. Wars are wars but the after-effects are when a lot of work has to be done."
Clive's sight is now restricted to one eye, in which his vision is hazy due to Macular Degeneration. He explains: "I began to have problems with my eyes when my right eye started to water all the time. After investigation they found out there was something at the back of the eye which turned out to be a cancerous growth. There's no more cancer in my body – I'm clear, which makes me quite happy."
Clive began to receive support from Blind Veterans UK in 2016. He says: "Blind Veterans UK have helped me a hell of a lot, especially with things like cooking, boiling hot water and things like that. It's so simple but if you don't know about it in the beginning it's a problem.
"It can be a struggle, I live on my own and it's the joy of knowing that I'm going to meet someone when I go down to the centre, and knowing that we'll have a good laugh that keeps me going."
This will be Clive's second Christmas at the charity's training and rehabilitation centre in Brighton, where after Christmas he will stay on and spend time with his new partner, Jean. He met Jean, a fellow beneficiary of the charity, at the centre when they were both staying there.
Clive says: "I've met someone and it was a fluke – it goes right back to last Christmas. I was sat next to her, so you're talking about fate. Last time we were at the centre together we got on so well, we were laughing and happy all the time. I have extended my holiday for an extra week so that we can be together. We're thinking about getting married!"
Blind Veterans UK currently supports more blind veterans than ever before in the charity's history, but it knows there are many more who still need its support to rebuild their lives following their sight loss. The charity has a dedicated community team which in Surrey and London who provide support including training, equipment and social events for vision-impaired ex-Service men and women in the local area.
Visit blindveterans.org.uk to learn more about the charity and how you can support its vital work today.
For all media enquiries please contact:
Ailie MacDonald Wilson
Regional Marcomms Executive, South East
Blind Veterans UK
12 – 14 Harcourt Street
London
W1H 4HD
E: ailie.macdonaldwilson@blindveterans.org.uk
T: 07599 535484 / 01444 470016
Notes to Editor:
Blind Veterans UK helps vision-impaired ex-Service men and women of every generation rebuild their lives after sight loss. Since 1915 we've provided rehabilitation, training, practical advice and emotional support to tens of thousands of blind veterans.
Find out more at: blindveterans.org.uk and follow us on Facebook at: facebook.com/blindveteransuk and on Twitter at: twitter.com/blindveterans.