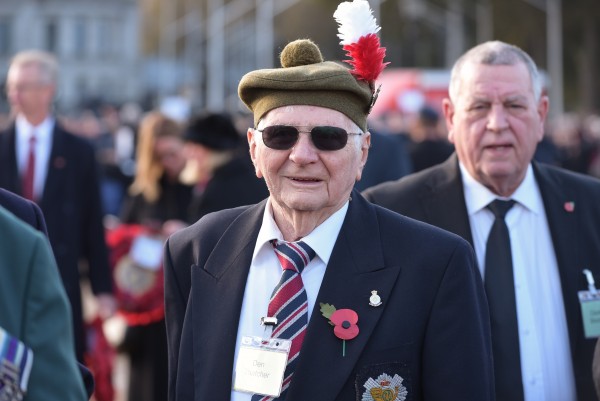 A blind veteran from Surrey is set to march at the Cenotaph in London this Remembrance Sunday (12/11) with the charity Blind Veterans UK.
Dennis Thatcher, 91 and from Camberley, is being supported to do this by a number of Specsavers stores in the county including in Epsom. The stores will be raising money from 6 to 12 November to help send blind veterans, including Dennis, to march.
Dennis will be marching at the Cenotaph in London with more than 100 other blind veterans supported by Blind Veterans UK, the national charity for vision-impaired ex-Service men and women.
Dennis says: "For me, Remembrance is a time to think about the fellows that I served with and lost their lives. It's something that you just don't forget."
Dennis served with the Army as part of his National Service from June 1944 to November 1947. He explains: "I was initially in the Royal Hampshire Regiment, before later joining the Highland Light Infantry."
After completing his training in Canterbury and Norfolk, Dennis went to France where he served on the front line for eighteen months on the Rhine. Dennis was discharged on November 5 1947 as a Corporal.
Unfortunately for Dennis, his eyesight began to deteriorate five years ago as a result of age-related macular degeneration.
Dennis says: "Everything just became quite blurred. It's got progressively worse, but it's a gradual process. I have a walking stick but still have to be careful.
"It was a huge shock but I remain positive and do things independently as much as possible. I have a niece who lives around the corner who visits most days. That's a massive help."
Dennis came across Blind Veterans UK after a current beneficiary of the charity recommended he get in touch. He explains: "I go on a Sainsbury's bus every Thursday and a chap on there, who receives support from the charity, told me I'd be eligible and that I should reach out for its support.
"I'm so happy he did, I'm really pleased with the service. They've given me a magnifier to read my letters with which is extremely useful. I also attended a week at their Brighton centre which was fantastic and a real eye opener. I had no idea the amount of things it's able to do for blind veterans."
Dennis is set to march with other vision-impaired ex-Service men and women supported by Blind Veterans UK as part of the national Remembrance Sunday commemorations in London on Sunday 12 November 2017. Specsavers stores in Epsom, Leatherhead and Banstead will be raising money to help get Dennis and all the other blind veterans there. You can support their activity online at blindveterans.org.uk/helpdennis.
Specsavers has supported Blind Veterans UK since 2012 and, as well as raising money for the charity, have referred a number of customers to them so they can access its support.
Chief Executive of Blind Veterans UK, Major General (Rtd) Nick Caplin CB says: "Remembrance Sunday is always a very poignant time for our blind veterans and it is fantastic that Specsavers are able to support them to get to march at the Cenotaph.
"Today, Blind Veterans UK supports more blind and vision-impaired veterans than ever before in the charity's history and we have set an ambitious target to double the number of veterans we support in the next five years."
Blind Veterans UK is the national charity for blind and vision-impaired ex-Service men and women, providing vital practical and emotional support to help veterans discover life beyond sight loss. The charity estimates that there are currently 59,000 blind veterans that would be eligible to access its specialist support, most of whom are not currently aware of it.
If you, or someone you know, served in the Armed Forces or did National Service and are now battling severe sight loss, find out how Blind Veterans UK could help by calling 0800 389 7979 or visiting blindveterans.org.uk
For all media enquiries please contact: Mark Wheeler, PR Manager, Blind Veterans UK, 12 – 14 Harcourt Street, London W1H 4HD, E: mark.wheeler@blindveterans.org.uk, T: 020 7616 7980
Notes to Editor
Blind Veterans UK
Blind Veterans UK is a national charity that believes that no-one who has served our country should have to battle blindness alone. It provides blind and vision-impaired ex-Service men and women with lifelong support including welfare support, rehabilitation, training, residential and respite care.
Find out more at: www.blindveterans.org.uk, and follow us on Facebook at: facebook.com/blindveteransuk and on Twitter at: twitter.com/blindveterans.