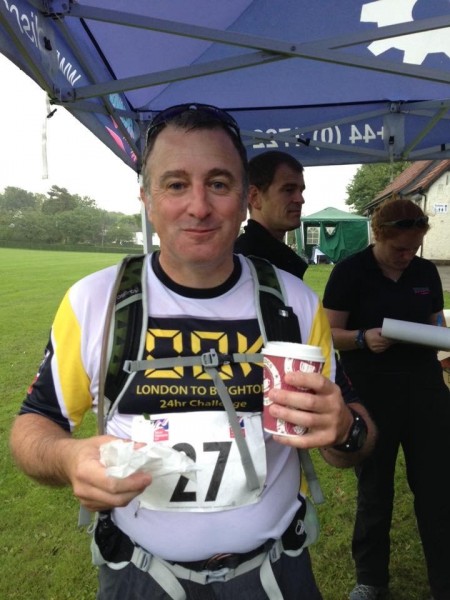 A veteran from Surrey is currently training to compete in a 100km walk from London to Brighton for Blind Veterans UK, the national charity for blind and vision-impaired ex-Service men and women.
Chris Butler, 46 and from Merstham, has been a volunteer for the charity for several years, helping as a guide in a number of events including the 100K London to Brighton in 2016 and the Blind Veterans UK Ski Club trip to Italy in 2015. He also took part in both the 100K London to Brighton and Ride for Life events in 2017, the latter of which he'll be doing again this year, alongside the 100km challenge. He says: "After the 2015 ski trip I was approached by the charity's Sports and Recreation team about guiding a young blind veteran called Darren. I'd already guided him when we were skiing so had gotten to know him a bit. I was also aware that I'm not getting any younger, so the challenge certainly appealed to me.
"All things considered, I didn't really feel like I had any good reason not to!"
Chris himself spent 27 years in the Royal Electrical and Mechanical Engineers (REME), serving as an Aircraft Technician before retiring in 2014. His late brother also served in the REME, while his father served in the Royal Navy for 35 years and his grandfather served in the Royal Signals. It's therefore safe to say that Chris has an immense amount of appreciation for the sacrifices made by the brave men and women of our country. It is because of this appreciation that Chris began volunteering for the charity. He explains: "Having seen first-hand what Blind Veterans UK does for its beneficiaries, it's hard not to want to throw your support at it. The organisation puts great effort into the care that it provides for its beneficiaries, and I've also seen how much it values its volunteers.
"I've had the great pleasure of meeting and befriending many blind veterans and members of staff, and it just leaves you wanting to contribute to the great work being done all round."
With two 100K London to Brighton events already under his belt, Chris admits that his one wish is for the elements to remain agreeable. He says: "I know exactly what to expect so I'm really looking forward to it. My fingers are firmly crossed for good weather though!"
While Chris is not guiding a veteran this year, he says that he'll still be on the lookout to support his fellow walkers, blind or otherwise. He says: "I wasn't guiding last year either but for the first half of the walk I helped a lady with a hip injury reach the half way point. Thereafter I took over guiding duties from someone who had to retire with blisters. My chances of finishing under 24 hours were gone as a result, but getting someone to the end safely is more important to me."
For now, while Chris turns his attention to training and fundraising, he's keen to encourage as many others as possible to sign up and join him at the start line. He says: "It's certainly a challenge. I'd say 40 per cent physical and 60 per cent mental. That being said there's a fantastic sense of achievement once you reach the finish line. The support during the event is superb and the encouragement you get from the general public gives you a lump in your throat.
"Alongside that, it's just a fantastic way to raise money for a fantastic charity."
The 100k London to Brighton will take place from 7 – 8 July 2018. It will see participants start off at the Hammersmith and Fulham Rugby Club, before crossing the North Downs, walking via woodland and small villages to Sussex and through the South Downs.
Registration is currently open with a fee of £50 for individual and team entrants, and £100 for relay teams. There is a minimum sponsorship pledge of £300 for individuals, £1,250 for teams and £500 for relay teams. The all-inclusive entrance fee includes lunch, dinner and breakfast at numerous rest stops, snacks and refreshments along the route and a free event t-shirt.
To support Chris as he takes on the 100k for Blind Veterans UK, please visit: justgiving.com/chris-butler23.
To sign up for the Blind Veterans UK 100k, please visit blindveterans.org.uk/100k.
For all media enquiries please contact: Felix Arbenz-Caines, PR Assistant, Blind Veterans UK, 12 – 14 Harcourt Street, London W1H 4HD, E: Felix.Arbenz-Caines@blindveterans.org.uk, T: 020 7616 7941
Notes to Editor
Blind Veterans UK
Blind Veterans UK is a national charity that believes that no-one who has served our country should have to battle blindness alone. Founded in 1915, the charity provides blind and vision impaired ex-Service men and women with lifelong support including welfare support, rehabilitation, training, residential and respite care.
Find out more at: blindveterans.org.uk, follow us on Facebook at: facebook.com/blindveteransuk and on Twitter at: twitter.com/blindveterans.