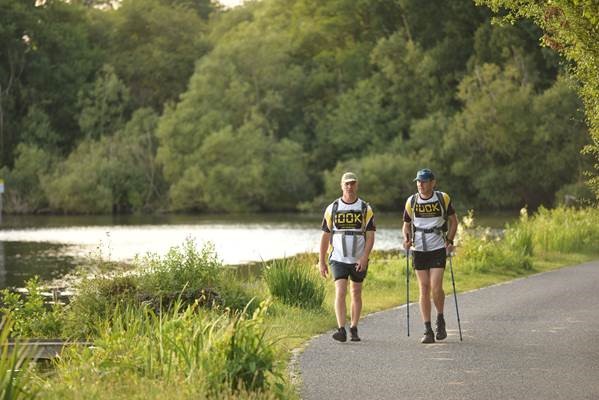 Blind Veterans UK is challenging Sussex residents to walk 100km from London to Brighton in 24 hours to raise money for Blind Veterans UK, the national charity for blind and vision-impaired ex-Service men and women.
The 100k London to Brighton will take place from 7 – 8 July 2018. It will see participants start off at the Hammersmith and Fulham Rugby Club, before crossing the North Downs, walking via woodland and small villages to Sussex and through the South Downs.
Guests are able to take part either individually, as part of a team or as part of a relay. Teams sign up as groups of five, with members competing alongside one another. Relay teams sign up as groups of four, with members completing 25km each.
Registration is currently open with a fee of £50 for individual and team entrants, and £100 for relay teams. There is a minimum sponsorship pledge of £300 for individuals, £1,250 for teams and £500 for teams. The all-inclusive entrance fee includes lunch, dinner and breakfast at numerous rest stops, snacks and refreshments along the route and a free event t-shirt.
Sophie Hill, Fundraising Events Manager for Blind Veterans UK, says: "Competing in the 100k London to Brighton is like nothing else. Spread over the course of 24 life-changing hours, it's provided thousands of participants with memories, friendships and achievements that they'll cherish with them for the rest of their lives.
"One of the many benefits of it being a walking challenge is that it gives competitors the chance to interact with the very inspirational veterans they are fundraising for; brave men and women who've discovered life beyond sight loss and are continuing to reach new sporting heights.
"Like any other endurance event it requires plenty of training and no shortage of grit and determination, but make no mistake, when you're watching the sunrise over the South Downs, you'll realise that every second was well worth it!
To sign up for the Blind Veterans UK 100k, please visit blindveterans.org.uk/100k.
Blind Veterans UK was founded in 1915 and the charity's initial purpose was to help and support soldiers blinded in the First World War. But the organisation has gone on to support more than 35,000 blind veterans and their families, spanning WWII to recent conflicts including Iraq and Afghanistan.
For more than a century, the charity has been providing vital free training, rehabilitation, equipment and emotional support to blind and vision-impaired veterans no matter when they served or how they lost their sight. Visit blindveterans.org.uk/support to learn more about the charity and how you can support its vital work today.
High-res pictures available on request
For all media enquiries please contact: Felix Arbenz-Caines, PR Assistant, Blind Veterans UK, 12 – 14 Harcourt Street, London, W1H 4HD, E: felix.arbenz-caines@blindveterans.org.uk, T: 020 7616 7941
Notes to Editor
Blind Veterans UK
Blind Veterans UK is a national charity that believes that no-one who has served our country should have to battle blindness alone. Founded in 1915, the charity provides blind and vision impaired ex-Service men and women with lifelong support including welfare support, rehabilitation, training, residential and respite care.
Find out more at: blindveterans.org.uk, follow us on Facebook at: facebook.com/blindveteransuk and on Twitter at: twitter.com/blindveterans.