WWII veterans enjoyed an event hosted by the Taxi Charity at Biggin Hill with two Spitfire flights and entertainment from the D Day Darlings.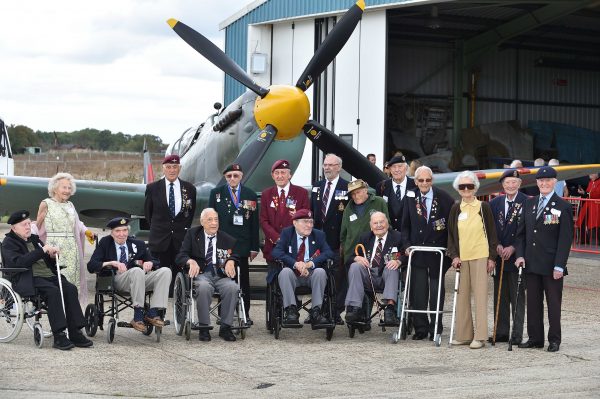 On 12 September a group of nineteen WWII Veterans were joined by veterans from other conflicts for a Taxi Chairty event in the Heritage Hangar at Biggin Hill, a working hangar for Spitfire restoration projects.
During the event which celebrated the Taxi Charity's 75th anniversary, veterans enjoyed catching up with each other a light lunch and entertainment from the D Day Darlings. At 12pm Chelsea Pensioneer Mike Smith, who served with the Royal Army Service Corps as an Air Despatcher, was surprised with the news he would be taking to the skies in a Spitfire, along with a second Spitfire carrying ambassador and vitamin entrepreneur Johnny Gallagher who had generously paid for the event.
Hearing and seeing the Spitfires take off and land, and listening to war time songs, many  synonymous with the charity's greatly missed Patron Dame Vera Lynn, certainly brought memories from 80 years ago flooding back. Veterans also participated in an art piece being created by military artist Kirsty Chapman.
Brian Heffernan, London cab driver and Chairman of the Taxi Charity for Military Veterans said,
"For seventy five years London cab drivers have volunteered their time to support veterans. Events like this are a wonderful way for veterans to get together to talk with those who have similar life experiences. The pandemic coupled with the cost of living crisis has left thousands of charities including ours with many fundraising challenges and we are so grateful that our young Ambassador Johnny Gallagher offered to cover all the costs for this event."
Dick Goodwin, Honorary Secretary Taxi Charity for Military Veterans said,
"When we surprised Mike Smith with the chance to fly in a Spitfire, we had no idea what his reaction would be. Imagine our delight when he told us that we would be ticking something off his bucket list which he never thought he would be able to achieve."
Johnny Gallagher, Taxi Charity Ambassador and Vitamin Entrepreneur said,
"It's an absolute disgrace that this charity has to struggle for funds when we are helping people that saved our lives, our family's lives, the country and the rest of Europe from a very sinister future.  As long as I earn money I will continue to help and give these veterans a great day and something to look forward to."
To find out more about the support the Taxi Charity offers to veterans or to donate  visit www.taxicharity.org