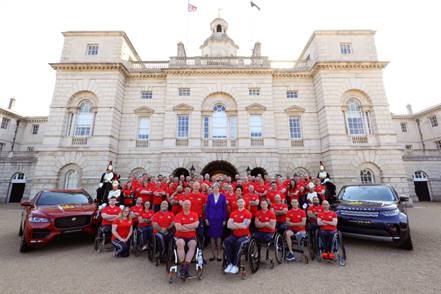 The UK team for the 2018 Invictus Games was unveiled this morning in central London.
The first official gathering of the 72-strong team of wounded, injured and sick (WIS) serving military personnel and Veterans took place early this morning at Horse Guards Parade in London.
Help for Heroes is responsible for training, selecting and developing the UK team and this year saw record numbers of hopefuls apply to be on the UK team. The team is comprised of 13 Serving members of the Armed Forces and 59 Veterans. 64% of those selected are new to the Invictus Games.
The athletes were joined by former Team UK captains, including Paralympic Bronze medallist Dave Henson. Prime Minister Theresa May also posed with the athletes for the first official team photograph and wished them luck for the Games in October.
The 2018 UK Team Captain was also named this morning as Mark "Dot" Perkins. The former Royal Signals Corporal Dot was discharged in 2005 and now works as a civil servant rehabilitating injured soldiers. Dot, who will compete in cycling and rowing, said: "There are few moments in one's life when an event occurs that truly transforms your life, the Invictus Games is it. They are all about empowerment, they empower us all to fight the chains of physical disability, to fight the intangible burden of mental illness and they empower us to focus on being the best we can be despite the scars that we all now wear.
"Whilst participating in the games our scars are like Medals that we can proudly display rather than hide in shame or embarrassment. Invictus allows us to be judged on what we can achieve, rather than what we can't.  To simply be selected for Team UK was an amazing achievement. To then be further selected as the Captain and to represent these incredibly brave men and women is extremely humbling, it is a huge privilege to be given this honour."
The team will compete in 11 sports: Athletics; Archery; Wheelchair Basketball; Cycling; Powerlifting; Indoor Rowing; Wheelchair Rugby; Swimming, Sitting Volleyball, Wheelchair Tennis and Sailing, which is a new addition for 2018. Help for Heroes will continue to train the team between now and October in various locations across the country as part of the Charity's extensive Sports Recovery programme.
Jayne Kavanagh, of Help for Heroes and Chef de Mission for Team UK, said: "Invictus is a powerful demonstration of the dedication these men and women displayed when they served our country. It is a celebration of how they confronted hardship but refused to be defined by injury or illness and they all deserve the chance to proudly serve their country once more. They have the opportunity to not only continue their own recovery, but to inspire others with their resilience, passion, courage and optimism.
"With more hopefuls than ever before applying to be a part of the Invictus Games in Sydney, and with 64% of the 2018 Team UK being brand new to the Games, it is evident that the legacy of the Games is strong. We are very proud to be working alongside these 72 athletes and wish them the best of luck as they embark on their Invictus Games journeys."
The UK delegation to the Invictus Games 2018 is once again being delivered by a partnership comprising Help for Heroes, The Ministry of Defence, and The Royal British Legion.
– ENDS –
Images available at www.defenceimagery.mod.uk/
Help for Heroes is responsible for training, selecting and developing the UK team.
TRBL supports the families and carers of the team.
The MOD will provide £350,000 of Libor money (bank fines) to support the Invictus Games.  The balance of costs will be found from sponsorship with any shortfall split between H4H and TRBL.
For further inquiries about the team please contact Robyn.Staveley@helpforheroes.org.uk or Gemma.Attew@helpforheroes.org.uk
 ABOUT HELP FOR HEROES
Help for Heroes offers comprehensive support to those who have suffered life-changing injuries and illnesses while serving our country. This support is provided through grants direct to our Heroes and their families, grants to other charities and through four Recovery Centres across the UK. A recent study launched in January 2016 by King's College London and Help for Heroes estimated that, of the 750,000 men and women who served as Regulars between 1991 and 2014, at least 66,000 might need long term support. www.helpforheroes.org.uk