Children's military charity, Scotty's Little Soldiers, has been awarded £60,000 of the government's emergency Covid-19 fund, administered by The Armed Forces Covenant Fund Trust.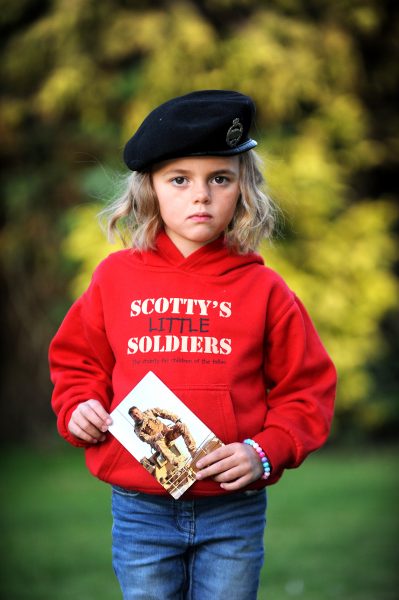 Scotty's Little Soldiers has been supporting bereaved Forces children for ten years and is currently providing intensive mental health and emotional wellbeing support to over 400 vulnerable young people, in response to Covid-19. This emergency fund will help Scotty's little Soldiers to continue this high level of support, reducing feelings of isolation and anxiety during lockdown, and assisting its beneficiaries as they re-emerge into society's new 'normal'.
Scotty's Little Soldiers was founded by war widow Nikki Scott in 2010, after seeing the impact the death of her husband, Corporal Lee Scott, had on their children.
The charity has gone on to be the UK's trusted principal provider of pro-active emotional, developmental and educational support to bereaved British Forces children and is an active member of Cobseo and The Child Bereavement Network.
Scotty's support is divided into four distinct Family Programmes: The 'Smiles' Programme offers the children the opportunity to smile again through a wide range of fun activities and gifts. This includes holiday breaks, group events, special experiences and gifts at difficult times of the year. The 'Support' Programme aims to assist with the more emotional side of bereavement and includes access to professional counselling and a family support network. The 'Strides' Programme is designed to help with the charity's beneficiaries' personal development and includes a range of activity and educational grants.  And the 'Springboard' Programme has recently been introduced for 19-25-year olds and focuses on providing mentoring and career placement opportunities. 
In recent months, Scotty's Little Soldiers has adapted its support, with the awareness that the situation caused by the Coronavirus is difficult for many, but it stands to have a particularly detrimental impact on the mental health and emotional wellbeing for children who are already grieving for a parent and subsequently face a number of challenges.
There is an increased likelihood that the pandemic will negatively impact on Scotty's Little Soldiers' vulnerable beneficiaries as they already have many of the recognised early negative life experiences that challenge children's wellbeing. This includes parental loss, PTSD, financial hardship, educational and familial displacement, and 'young carer' responsibilities for surviving parents as well as potentially siblings experiencing similar trauma. If unmitigated this can have the most serious long-term negative impact on self-confidence, relationships, academic attainment, and ultimately future life chances.
At the beginning of lockdown, Scotty's provided its members with a six-month subscription to Disney+ to help ease the boredom, and the Scotty's team has been using modern technology to arrange exciting virtual events and activities to engage with its members, ensuring them that in uncertain times such as these they are not alone. This has included a virtual choir, a virtual quiz hosted by This Morning host Alison Hammond and a virtual party organised by London events company Sharky and George. The children have also taken part in a number of competitions and games to keep them entertained, and they had the opportunity to put their questions to Britain's Got Talent winner, magician Richard Jones, when he was interviewed by Scotty's founder, Nikki, via video call. The children have been treated to a Friday Night Takeaway too – a great way to enjoy important family time.
As well as all the fun activities, wellbeing support has been paramount and Scotty's Head of Support, Bev Townsend, has been on hand to assist families at this time of heightened anxiety. Bev runs regular virtual support groups as well as always being on the other end of the phone for individual chats and referrals for additional support, where necessary.
As we move out of lockdown, Scotty's is offering school support to help returning students adjust, as a lengthy period away from school is disruptive for anyone, but particularly those already suffering from anxiety and self-confidence issues.  A therapeutic retreat is being planned for children whose important Primary/Secondary transfer years have been disrupted, and respite breaks are being organised to allow families much needed time away.
In response to Covid-19, the government made £6 million available to Armed Forces charities and CIC's supporting serving personnel, veterans and their families affected by Covid-19. The funding was administered through The Armed Forces Covenant Fund Trust and Scotty's Little Soldiers, whose beneficiaries are recognised to be amongst those who have given up the most to our country, was awarded £60,000.
Nikki Scott, Founder of Scotty's Little Soldiers said:
"We made the decision right at the beginning of lockdown to be there for the children and young people we support. It was a worrying time for us financially with our usual streams of income reduced, but we knew how much the kids needed us and we increased our support and responded to the needs of the families. This funding is a massive boost for us and helps us to continue to provide a high level of support. Covid-19 isn't going away anytime soon though, and many of the children will suffer consequences of the lockdown for a long time. Anxiety levels are high and disruption to education and routines can unbalance even the most stable child. We have plans in place to continue to assist the children and we are so grateful for this grant to put towards that. Future fundraising is still crucial though, and any help is so appreciated."