Scotland's best-known military band is all set to team up with leading Armed Forces charity Poppyscotland for a third Scottish tour. Members of The Band of The Royal Regiment of Scotland gathered today at Dreghorn Barracks, near Edinburgh, to help launch the new tour for 2020 entitled 'Walking With Oor Ain Folk'.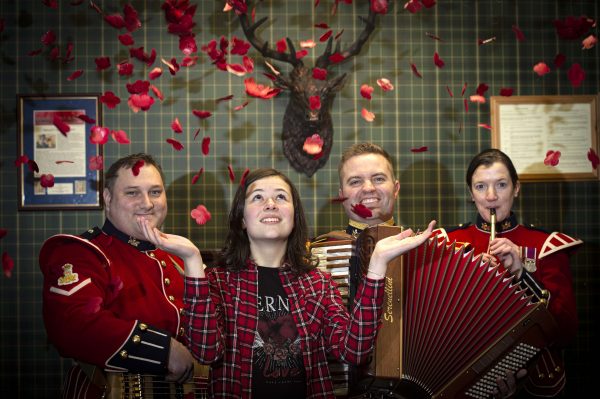 The tour, which is being run in collaboration with Hawick folk musician and songwriter Alan Brydon, will see them perform four concerts this year with the new theme of Scottish folk music from the west lowlands (Burns Country) to the Western Isles, the Highlands, the East of Scotland and the Scottish Borders. The Band will visit Hamilton (3 April), Livingston (2 October), Montrose (16 October) and Hawick (17 December).
Taking part in the launch were Band members LCpl Gareth Kennedy (bass guitar), LCpl Angela Kennedy (penny whistle) and LCpl Simon Newing (drums). And joining the Band were sisters Sidonie Mather, 14, who is an S3 pupil at Armadale Academy, and her younger sibling, Agathe Mather, 11, who is a P7 pupil at Armadale Primary School. Both girls are from Armadale, West Lothian.
Major James Marshall, the Director of Music to the Band of The Royal Regiment of Scotland, said:
"After the rapturous reception we've received across the country in the past two years we're delighted to back again, especially as we'll be visiting towns where we've not performed in a concert setting before. It is also very exciting to showcase the diverse talents of the Band members through the folk theme, and it is an honour to be collaborating with Alan Brydon. We hope the public will come out in force once again to support Poppyscotland and the vital work they do for the Armed Forces community."
Gordon Michie, the Head of Fundraising at Poppyscotland, said:
"All over the country, hundreds have flocked to watch The Band of The Royal Regiment of Scotland perform in the past two years, and it is a privilege for Poppyscotland to be in partnership with such a talented group of musicians once again.

"As ever, the Band's schedule is packed, but it is fantastic that they have managed to secure four dates spread throughout this year. The tour will provide a great opportunity for music-lovers to experience the unmistakable and memorable sound of Scotland's State Band as they perform a host of folk gems. We urge everyone to get their hands on tickets as soon as possible as they are sure to sell out fast!"
The tour begins on Friday, April 3rd at the Hamilton Town House. Then, in October, the Band will perform at Livingston's Howden Park Centre (2 October) and at the Montrose Town Hall (23 October). It will all culminate with a special festive concert in the Hawick Town Hall on the 17 December. Tickets will be sold for £15 full price and £12 for concessions. Alan Brydon is not able to perform at the Hamilton concert, but will be in attendance at the other three.
Hamilton resident and Second World War veteran Ian Forsyth MBE, who has been a volunteer collector for Poppyscotland for more than 50 years, said:
"It is truly wonderful to hear that such a prestigious and much-loved military Band are coming to Hamilton. I've no doubt it will be a night to remember and will be especially poignant for veterans such as myself. I would encourage my fellow Lanarkshire-dwellers to purchase tickets quickly as this will be a night to remember."
Speaking about the first concert, Mark Horsham, the Veterans Champion for South Lanarkshire, said:
"Both the Council and myself, as Armed Forces Champion, are delighted that Poppyscotland and the Band of the Royal Regiment of Scotland have chosen to open their national tour in South Lanarkshire.

"I am sure the tour will be a huge success and I am very much looking forward to the concert in Hamilton on 3rd April. Can I emphasise how much of a pleasure it is for the Council to support an event which I am sure will be enjoyed by people from across South Lanarkshire."
Alan Brydon said:
"I'm delighted to work again with Poppyscotland and The Band of the Royal Regiment of Scotland and looking forward to 'Walking With Our Ain Folk' in music and song, while raising funds for a great cause."
Honorary Provost of Hawick Watson McAteer said:
"I am absolutely delighted that Hawick has secured a December date for a visit of Poppyscotland and The Band of the Royal Regiment of Scotland during their 2020 'Walking With Oor Ain Folk' tour.

"Hawick has a proud military history and I'm confident that the concert will attract huge interest from our local area. With our well-known local folk musician and songwriter Alan Brydon supporting this event we can all look forward to something very special as we approach Christmas."
Hawick and Denholm Councillor Stuart Marshall:
"It's absolutely fantastic news that Hawick has been chosen to host this magnificent event in December and I know that tickets for this concert will be hugely sought after, not only by the townsfolk but also from many other parts of the Scottish Borders as well. I look forward very much to welcoming the Band to our town and their visit will certainly be viewed as an early Christmas present for our community."
The Band is one of the 22 Regular Army bands and is based at Dreghorn Barracks, Edinburgh. It comprises 45 talented musicians who are also serving soldiers and it is a symphonic wind band with the additional capability of a Ceilidh band. The main role of the band is to support the Army, the State and Ceremonial occasions that occur within Scotland.
It also performs all over the world. In recent years, the Band has travelled to Hong Kong, New Zealand, Switzerland, Liechtenstein, Germany and Canada. Every year, it performs at the world-famous Edinburgh Military Tattoo in front of sell-out crowds at Edinburgh Castle during the capital's Fringe Festival. And now they are coming to the Hamilton Town House!
Notes to Editors
For further information and all media enquiries, please contact David A. Findlay, PR Manager at Poppyscotland, on 079797 35611, or email at d.findlay@poppyscotland.org.uk.
Pictures are free to use. Where appropriate, please credit: Mark Owens/Poppyscotland.
The schedule for the tour is as follows:

3 April – Hamilton Town House
2 October – Livingston Howden Park Centre
16 October – Montrose Town Hall
17 December – Hawick Town Hall
Poppyscotland provides life-changing support to the Armed Forces community. Money raised from the Scottish Poppy Appeal and Poppyscotland's year-round fundraising enables them to deliver support to members of the Armed Forces community in Scotland by providing tailored funding and assistance. The charity also funds services in advice, employment, housing, mental health, mobility and respite. Please note that we are known as "Poppyscotland", and not "PoppyScotland" or "Poppy Scotland". For more information, please visit us at: www.poppyscotland.org.uk.