A group of military wives have climbed the highest volcano in the world, Ojos del Salado in Chile at 6893m. Most of the team had never even owned a pair of walking boots before they began training for this expedition last year.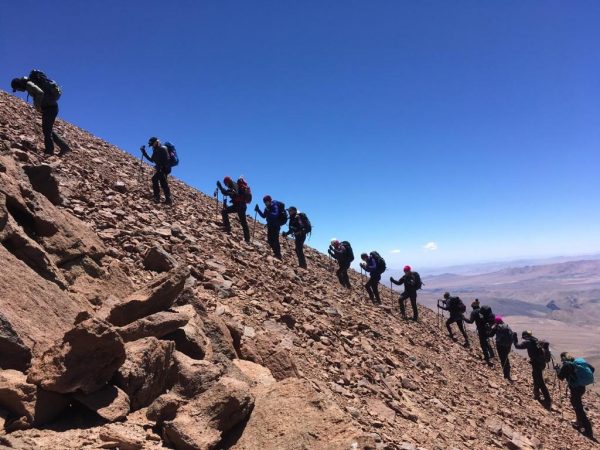 The team is made up of forces wives from all across the UK, whose husbands all serve in the Parachute Regiment in the British Army. This flagship event launched the Forces Wives Challenge (FWC), a new movement that seeks to unite the Forces Wives community through adventure and challenge. It strives to combat issues of loneliness and isolation that is so prevalent within the armed forces community. If was set up by former Army Officer Heather Sharp, 39, who wanted to ensure the spouses of those who serve in the military also get to experience a sense of belonging that being in the Armed Forces brings.
On reaching the summit, Heather said:
"I can speak on behalf of everyone that this was the hardest thing I have ever done in my life. Every step above 6500m felt utterly exhausting but we were determined to fly the FWC flag. I was told by so many people that it was too ambitious but hopefully we've proved that with determination, dedication and a team of badass ladies you really can achieve anything."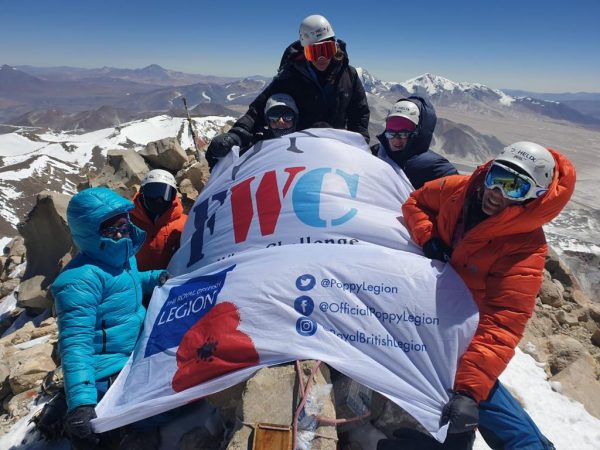 This inaugural expedition is raising money for The Royal British Legion which provides lifelong support to the Armed Forces Community including partners and their family members.
Army wife, Etta, 43, has spent the last 24 years supporting her husband Paul with his Army career around the world including numerous operational deployments to Northern Ireland, Sierra Leone, Iraq, and Afghanistan, but this was her chance to conquer the volcano and achieve her own sense of adventure.
"I am overwhelmed by the gifts it has given me. The hardships, the heartaches, the exhilaration and joy. The sights, the experiences, the journey as a whole. The team. The overwhelming mixture of relief and euphoria, the pain and the tears we cried. We climbed mountains. And it was amazing."
The team got up at 2am on International Women's Day and from Tejos Regue at 5837m, set off on their gruelling climb in temperatures of -25. The team will arrive back in the UK tomorrow and there will be a homecoming gathering later on this week alongside their friends and family.
For more information on Forces Wives Challenge please visit www.forceswiveschallenge.org and to make a donation please visit their Just Giving Page www.justgiving.com/fundraising/forceswiveschallenge
Notes to Editors:
• Interviews with team members available on request.
• Images and footage available on request
Follow the Forces Wives Challenge on their blog on their website and on Twitter: @ForcesWivesChal
For more information please contact Charlene Guy, Press Officer at The Royal British Legion – CGuy@britishlegion.org.uk / 0203 053 7184/ 07458 124 853