This workshop will look at the types of funding available beyond Start-Up on 6 April.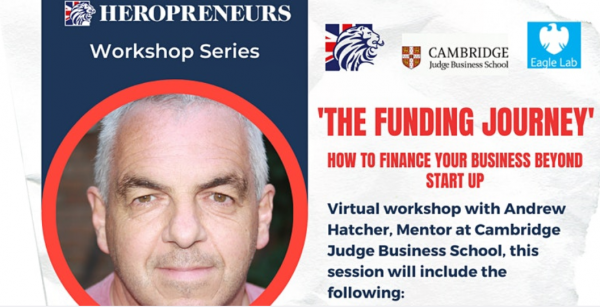 About this event
Virtual workshop with Andrew Hatcher, Mentor at Cambridge Judge Business School, who will be joined by Barclays Eagle Labs in this session and will include the following:
An overview of the current investment landscape
A review of pre-investment
Understanding funding to Value Inflection Points
A review of funding options
Andrew Hatcher's Bio:
Andrew is a seasoned entrepreneur, investor and advisor with a long history of identifying, developing and managing innovation and growth across many sectors.
His corporate life was spent primarily at Reuters, the global information group, where he was involved in developing an innovation management system within the corporate venturing division. This culminated in a role as CEO of an Asian-based Internet trading corporate spin-out in Singapore which he took through initial VC funding and on to a trade sale.
He has subsequently been involved in the creation, development and growth of a number of companies and acts as a non-executive director at several early-stage technology companies. This has involved working in many sectors including financial services, education, Oil and Gas, marketing services, AI and medical technology.
Andrew teaches widely in the areas of innovation and marketing and has published a number of books on these topics. He is currently Mentor in Residence at the Cambridge Judge Business School and is lead coach on the Accelerate Cambridge programme, Barclays Scale Up programme and the Strategic Business Growth programme.
This workshop will be delivered virtually via Zoom with a break between sessions.
Why are you charging for events?
In the past we've not charged a ticket price for our events and have found the turnout to be unpredictable at best (one of our online workshops had 30+ registrations and only two attendees on the day). With all of our presenters volunteering their time to share their valuable training and knowledge, we owe it to them to make sure that the event is well-attended by people who want to be there. Since charging a nominal fee to those not on the Heropreneurs programme, we have seen an almost 100% attendance rate at all of our events.
As a charity, we would never want to exclude anybody from the Armed Forces community because of financial constraints, if you would like to attend this event but do not have the means to pay, please contact team@heropreneurs.co.uk for a discount code.