On a brisk Sunday, 18 June 2023, a quartet of hardy cyclists, as resolute as they were intrepid, embarked on a journey that would test their mettle and endurance.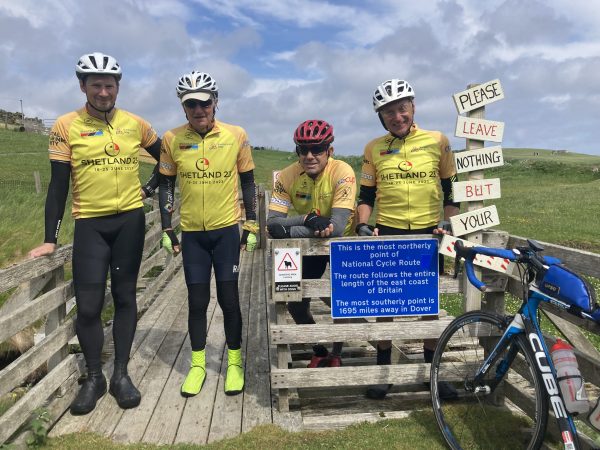 Their mission? A 7-day cycling odyssey, unsupported, around the windswept beauty of the Orkney and Shetland islands, all in the name of charity. Their cause? PTSD Resolution, a beacon of hope for UK veterans grappling with the invisible wounds of mental health.
The team was a veritable band of brothers: led by 78-year-old Jonathan Thomson, a former Royal Marine with a heart as big as his spirit; Jim, a one-time naval pilot whose courage was as steady as his hand once was on the controls; Matt, another ex-Marine whose resilience was as unyielding as the cliffs of the Shetlands; and Jez, an amputee and ex-Marine whose determination was as unassailable as his spirit.
Over the course of a week that would have made Odysseus himself think twice, our intrepid quartet cycled a staggering 717km, and climbed an elevation of 25,538ft – a feat that fell just shy of conquering Everest itself. Their journey began in the remote Scottish outpost of Forsinard, took them to the northernmost tip of the Shetlands, and then, with the same dogged determination, they pedalled their way back to their starting point.
Their journey, as recounted in their daily dispatches, was as much a tour of the British Isles' rugged beauty as it was a testament to human endurance. They pedalled through verdant fields that were a riot of colour, scaled high moorlands that were a study in stoic solitude, and braved weather that swung capriciously from drenching rains to winds that would give Aeolus pause.
But this was no pleasure cruise. Every pound of their flesh was paid for in pounds sterling for PTSD Resolution. By the time their journey came to an end, they had raised a handsome sum of nearly £75,000 from this and three previous tours:  the UK North Coast in 2020, the Pyrenees in 2021, and the hills and valleys of Wales in 2022.
Every penny of this will go towards providing essential treatment for UK veterans battling the spectre of PTSD.
You can still lend your support to the 'Shetland '23' challenge and help UK Veterans, Reservists and families via JustGiving. To learn more about the sterling work of the charity, visit PTSD Resolution. In the spirit of our four cyclists, every little bit helps.