SSAFA, the Armed Forces charity, in conjunction with The Lost Soldier project, recently visited HMP Peterborough to offer support to veterans who are serving time in the prison.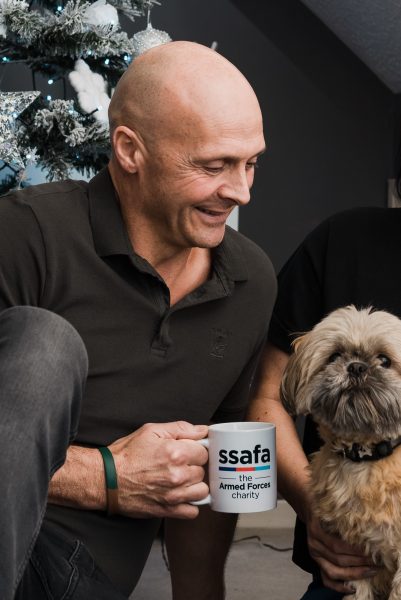 SSAFA caseworkers seek to alleviate the suffering and distress of those that have served in the Armed Forces, their families and dependants through welfare advice and support and often work with veterans who have run into trouble.
Steve Porter, SSAFA Prison In-reach volunteer said:
"These people are repaying their debt to society and we have to remember that they may need support in order to make the necessary changes in their lives. Mostly, we assist the families of the prisoners as the impact of a prison sentence is often harder on the children and close family network than it is on the prisoner."
Steve works with Rich Jones, who created The Lost Soldier Project. Rich is a SSAFA beneficiary from his time in prison. Rich served in the 3rd Royal Tank Regiment and left in 1995 to train as a bodyguard. His life should have been plain sailing, but drugs and leaving the Army derailed him.
Rich said:
"I'd been posted to Cyprus and that's where it all started; lots of my mates were taking drugs and I wanted to experiment. Then, when we were posted back to Germany I met a girl, realised the Army lifestyle didn't work for my relationship, and if I got caught using drugs I would be thrown out. I didn't want that shame for my family, so I pulled the pin [left the Army]."
After quite a journey, Rich went on to become known as the South West's Cocaine Kingpin and ended up serving seven years in prison.
Rich said:
"I was hooked on risk taking. In the Army it is encouraged because you need to have that mindset if you are going to go to war. But after I left, it was my 'normal' and I continued to chase that feeling, which led me into crime. Of course, it's not like that for everyone. But the truth is, I was more comfortable in prison, with hierarchies and rules, than I was as a veteran trying to make my way in the world."
While in prison Rich, feeling the shame of letting his family down and realising that his life did not need to be in crime, wrote and delivered a course for imprisoned veterans called TLS – The Lost Soldier. This developed into The Lost Soldier Project, which is a not-for-profit social enterprise to support H.M Forces veterans during their transition out of the forces.
Rich said:
"As veterans we struggle with similar problems when coming out of the forces; loss of support groups, not knowing simple stuff like how to pay council tax and often not having a regular wage to rely on. It isn't unusual that one of the paths ex-service people choose is crime. Helping them out of that mindset and showing how life can be different is vital, because these people are worth the effort. They have just lost their way."
Steve Porter said:
"Working with Rich is great. He has so much experience and knows exactly how to explain things to the veteran prisoners. If he comes to a prison with me and does a talk then any veterans who had been too embarrassed or nervous to admit to their service career will come up to him and declare themselves, which means we can help them."
Helping prisoners rarely means helping the prisoner themselves.
Steve said:
"They are often estranged from their families. They started off with a good job and a good background and then something happened. These people mostly ask for support for their families. They refer their estranged children or ex-partners to us so we can support them.

"Sometimes we can help hold those vital family bonds together. Because of the prison population problems, prisoners can be incarcerated hundreds of miles from their families. If they are on income support and maybe don't drive, its really difficult to do regular prison visits to maintain relationships. And maintaining relationships is often vital to the rehabilitation of the offender. SSAFA can help with this."
If you, or someone you know may need support, or are interested in volunteering with SSAFA please go to ssafa.org.uk