One of the largest fraternal organisations in the United Kingdom, The Royal Antediluvian Order of Buffaloes (RAOB), has raised £500 for bereaved Armed Forces children's charity Scotty's Little Soldiers through donations and word of mouth this month.
Founded by war widow Nikki Scott in 2010, Scotty's Little Soldiers supports children across the UK who have lost a parent while serving in the British Armed Forces. The charity was set up in memory of Nikki's husband and father to her two children, Corporal Lee Scott, after he was killed in Afghanistan in 2009.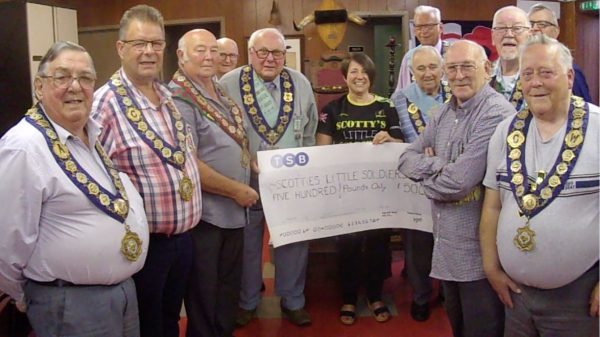 RAOB support a number of charities and, after researching Scotty's Little Soldiers, decided it was a good fit for the organisation. RAOB began to raise money for the cause earlier this year and this week presented a cheque for £500 to the charity.
Brother Les Watts role of honour, commented:
"We're always looking for worthwhile causes to support and Scotty's Little Soldiers is truly one of these. After spending time researching the charity and learning about its programmes we were all very keen to contribute to this.

"Following the initial money which we've raised, we have also requested collection buckets from the charity and we hope that we can continue to contribute to such a wonderful cause."      
Charity founder, Nikki Scott, said:
"We're very grateful for this donation and it will go a long way for us. It's important for us to receive vital funds on a regular basis in order to continue to support our members. On behalf of all of Scotty's Little Soldiers I want to say a big thank you to local members of The Royal Antediluvian Order of Buffaloes."    
To see how you could support Scotty's Little Soldiers visit: http://scottyslittlesoldiers.co.uk/
Notes to editors
To speak to a member of the Scotty's Little Soldiers team, please contact Scotty's national PR agency: Claire Lomax (claire@wolfstarconsultancy.com), Chris Grayson (chrisg@wolfstarconsultancy.com), 0113 273 7816.
About Scotty's Little Soldiers
Scotty's Little Soldiers, founded in 2010, honours Corporal Lee Scott's memory – both as a loyal soldier and a loving father – and provides a practical yet personal way for the public at large to show their appreciation for those brave individuals who make the ultimate sacrifice in the service of their country. Currently Scotty's Little Soldiers supports 372 bereaved children and runs a variety of programmes to help children smile again and look forward to a brighter future. You can visit the charity online at http://www.scottyslittlesoldiers.co.uk/