The Sloop Inn fundraising Festival on Bank Holiday weekend (25/26 May) was a great success. Over the two days nearly 1000 people turned up to enjoy six bands, a range of real ales and a barbeque.
The event raised over £2220 for the charity Building Heroes, which is West Sussex based and provides skills training and support into employment in the building trades for unemployed ex-service men and women.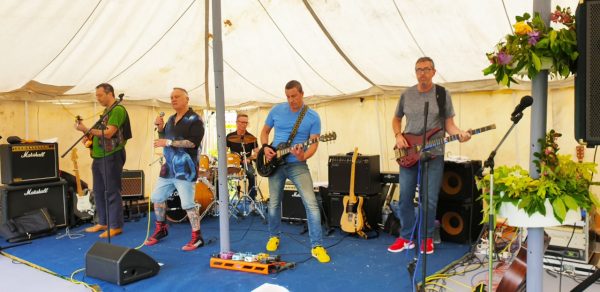 Gary Morris (the Sloop Landlord) said "Once again the generosity and support for this event is unbelievable and a big thank you must go to all those who contributed towards the amount collected and to the marquee providers and performers who all provided their services free of charge".
Pete Bradbury, Chair of Building Heroes said "This money will go towards helping many veterans back into civilian life and we very much appreciate the support the Sloop event has given us".
Further information about the Sloop Inn, Sloop Lane, Scaynes Hill RH17 7NP is on
thesloopinn.com and facebook.com/thesloopinn
The Sloop Inn telephone number is 01444 831219
Notes:
The contact person(s) for this press release is Sol Mead on sol.mead@btinternet.com or 07771900864 or Lynda Vowles lyndav@buildingheroes.org.uk or annaw@buildingheroes.org.uk or phone 01798 874521.
Further Information on "Building Heroes" (Charity No 115886) can be found on buildingheroes.org.uk or facebook.com/BuildingHeroes
The bands that appeared at the Festival included
The Pete Bradbury Blues Band
Misty Blues
Espresso Brothers
CrYsis *
Quarter Down
The Blanchflower Duo
The music between bands was provided Sol Mead from Mid Downs Radio
*Photo performing at the Festival