The Taxi Charity will be taking six veterans to Belgium, in six London licensed taxis, on 11 July, to join a team of military veterans and serving personnel, to experience excavating at the site of Wellington's Field Hospital on the world-famous battlefield of Waterloo.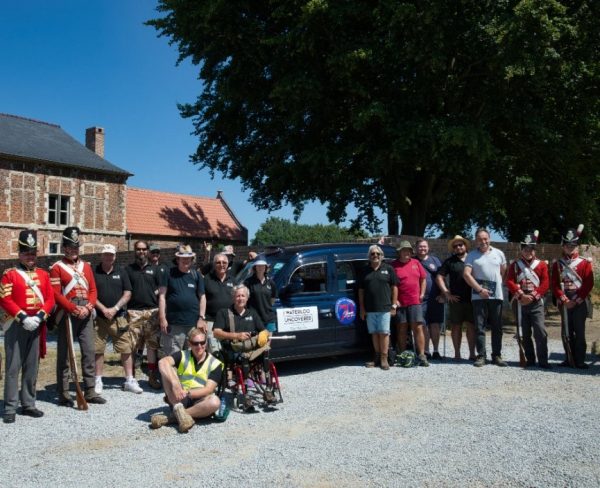 Led by professional archaeologists, the excavation, organised by the charity Waterloo Uncovered, will explore the farm buildings of Mont St Jean, where thousands of wounded soldiers received primitive first aid during the battle of 1815, which ended in the crushing defeat of Napoleon.
Frances Wyhowska, Vice President, The Taxi Charity, comments "This is the second time that The Taxi Charity for Military Veterans will be supporting Waterloo Uncovered by escorting veterans from London to Belgium and involving them in the archaeological dig. It is an amazing experience for both the veterans and the cab drivers, and we are always inundated with cabbies who want to volunteer their time to accompany a veteran to the battlefield excavation and join them on the dig."
Danny Shelton, London Licensed Taxi Driver, says "I volunteered my time last year for the Taxi Charity to support Waterloo Uncovered and thoroughly enjoyed it. As a proud London cabbie, it makes me realise how lucky I am to be able to give something back to these lads and lasses who do so much for us."
About Waterloo Uncovered
Waterloo Uncovered combines world-class archaeology with a programme of care and recovery. Many of the military personnel involved have experienced service-related wounds and injuries or suffer from Post-Traumatic Stress Disorder (PTSD).  Taking part on the Dig can help people rebuild health and confidence, learn new skills and interests and give them the chance to mix with people from a variety of backgrounds.
Waterloo Uncovered has been excavating areas of the battlefield since 2015 and have made important new discoveries about the intense and bloody fighting and the men who took part in the battle.
This year's dig is sponsored by Annington, one of the UK's largest providers of privately rented property and a specialist in providing property for the Ministry of Defence.
Waterloo Uncovered will be excavating at Waterloo from July 9 -19th.
About the Taxi Charity for Military Veterans
The Taxi Charity for Military Veterans was formed in Fulham in 1948, to work for the benefit, comfort and enjoyment of military veterans and arranges many trips every year for veterans from all conflicts.
The charity offers international trips to Holland, Belgium and France, UK day trips to concerts or museums, transport to attend fundraising events, as well as special days out to catch up with friends and comrades.
To fund and facilitate these outings, the charity is wholly reliant on generous donations from members of the public, businesses and trusts and the amazing group of London licensed taxi drivers who offer their time and vehicles free.
To find out more about the charity or to donate visit the website www.taxicharity.org.
Twitter @TaxiCharity
Facebook www.facebook.com/TaxiCharityUK.
For more information, to arrange interviews or to request images please contact
Christina Bowden
Bowden PR
07984 433614