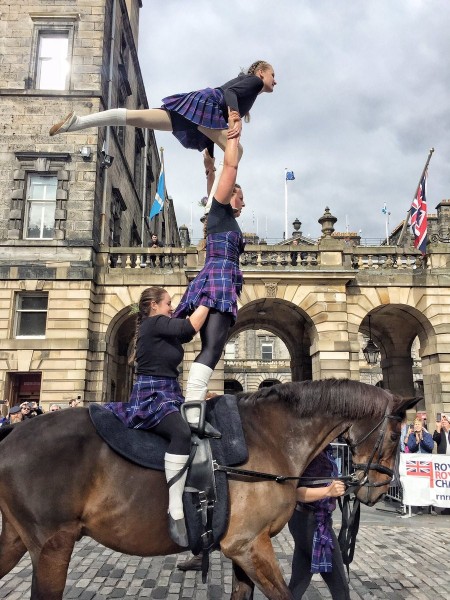 Record numbers of spectators turned out to witness the historic Edinburgh Riding of the Marches.
The ride, which took place on Sunday 17th March 2017, saw approximately 25,000 people lining the beautiful cobbled Edinburgh streets to witness over 280 horses traversing the Royal Mile.
Steeped in history, the yearly ride is a spectacular re-enactment of the return of the Captain of the Trained Band to Edinburgh, following the tragic news of defeat at the battle of Flodden in 1513.
Having returned in 2009 after a break of more than 60 years, the Riding of the Marches has already become one of Edinburgh's most colourful annual events.
Each year, the elected Edinburgh Captain and Lass lead the horses and their riders up the Royal Mile and on towards Mercat Cross, before returning the city flag to the Lord Provost.
As the official charity partner of the ride, the Royal Navy and Royal Marines Charity (RNRMC) were present throughout the day showing their support for the incredible riders while raising money for sailors, marines and their families.
With committed volunteers lining the city's streets collecting donations and a successful dinner auction in the evening, the event raised a substantial amount of money for the charity. Much of the excellent work undertaken wouldn't have been possible without the support of the Edinburgh March Riding Association.
The RNRMC have a proud and strong connection to Scotland with thousands of Scots employed in the Royal Navy. Most notably 3000 local people were recently involved in the construction of the 65,000 tonne aircraft carrier, HMS Queen Elizabeth at Fife's Rosyth Dockyard.
Alasdair Akass, Director of Marketing and Communications at the RNRMC said: "The Royal Navy and Royal Marines Charity were delighted to be the official Charity Partner of the Edinburgh Riding of the Marches.
This spectacular event saw a record number of spectators taking to the medieval roads of Edinburgh to watch the historic Riding of the Marches. By doing so, this special day raised thousands of pounds that will go toward helping support Scottish sailors, marines and their families in their time of need. The RNRMC are incredibly proud to have worked alongside the EMRA for this special event."
NOTE TO THE EDITOR
For more information please contact Fred Stonehouse, Press, PR and Media Executive, Royal Navy and Royal Marines Charity.
E: fred.stonehouse@rnrmc.org.uk  P: 02393 871540/ 07736587299
*High resolution pictures available upon request. *
ABOUT THE CHARITY
The Royal Navy and Royal Marines Charity is the principle charity of the Royal Navy. It exists to support sailors, marines and their families, for life.
Its group of charities includes the Royal Marines Charity, the Royal Navy Officers' Charity and the Naval Service Sports Charity.
Since 2007, it has funded projects and facilities that boost morale for those who serve today. It also distributes millions of pounds annually to military charities which care for the children, families and veterans of the Royal navy and Royal Marines.
For more information on the Royal Navy and Royal Marines Charity, call 023 9387 15020 or visit www.rnrmc.org.uk
ENDS