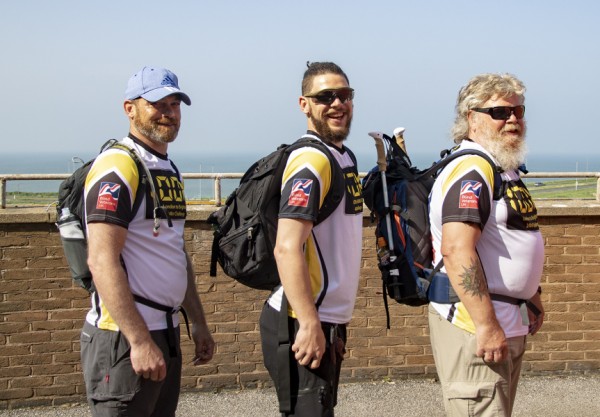 A blind veteran from Guildford is currently training to take part in a 100km walk over 24 hours to raise money for Blind Veterans UK, the national charity for blind and vision-impaired ex-Service men and women.
Jeff Stockwell, 62 and from Broomfield, will take part in the walk from London to Brighton this July alongside his son Tony, 40, and grandson Aron, 21.
He says: "This is actually my third attempt at completing the 100K, so fingers crossed it's third time lucky. I've been training hard but if worst comes to worst my grandson says he'll push me to the finish line in a wheelbarrow."
Jeff enlisted in the Army Catering Corps in 1972 and worked as a chef in the officer's mess. He served in Belize, Canada, Cyprus, England, Germany and Northern Ireland, before leaving the Forces in 1986 to work with terminally ill children.
Unfortunately, Jeff ended up in intensive care over Christmas 2004 after being struck down with salmonella. The illness would cost him his sight in one eye, before later losing the central vision in his other. He found himself struggling to cope with his sudden loss of independence.
Of one of the most difficult times of his life, Jeff says: "I lost my car. I had just bought a campervan and I lost that too. I went into a downward spiral, feeling depressed and suicidal."
Fortunately, Jeff found out about the support of Blind Veterans UK in 2015. He attended an introduction course at the charity's training and rehabilitation centre in Brighton and went on to take up art classes and woodturning, as well as receiving valuable life skills training.
Jeff says: "More recently Blind Veterans UK has really been supporting me in improving my health and wellbeing. I've been given long cane training so that I'm more confident in getting out, and the staff have been encouraging me to take on crazy challenges like the 100K to improve my fitness."
Thanks to his exercise regime Jeff has lost a huge 12 stone since 2014. He first attempted the 100K in 2016 but his effort was cut short when a cyclist collided with him, causing him to damage his hip. His second attempt last year came to an end when he suffered heat exhaustion at the 50km mark.
This year Jeff, who only has a small amount of peripheral vision remaining in one eye, will be guided by his son Tony, who works in insurance claims, and grandson Aron, who works as a groundsman for Surrey County Council.
Jeff says: "My sight loss is so bad that when I look at my feet I can't see them. That's why having a guide is really important, particularly someone you trust. I'm so fortunate to have my son and grandson backing my effort because I know they'll be looking out for me every step of the way."
The trio hope to finish the mammoth challenge in less than 24 hours to raise funds for other vision-impaired ex-Service men and women.
Jeff says: "Tony and Aron have both seen how much Blind Veterans UK has done for me. The 100K is a chance for all of us to get out there and prove that sight loss shouldn't stop you living life to the full."
To support the Stockwell family in their fundraising effort, visit justgiving.com/stockwellboys
For all media enquiries please contact: Ruth Moore, PR and Communications Executive, Blind Veterans UK, 12 – 14 Harcourt Street, London W1H 4HD, E: ruth.moore@blindveterans.org.uk, T: 020 7616 7955
Notes to Editor
Blind Veterans UK
Blind Veterans UK is a national charity that believes that no-one who has served our country should have to battle blindness alone. Founded in 1915, the charity provides blind and vision impaired ex-Service men and women with lifelong support including welfare support, rehabilitation, training, residential and respite care.
Find out more at: blindveterans.org.uk, follow us on Facebook at: facebook.com/blindveteransuk and on Twitter at: twitter.com/blindveterans.