A three-year-old superstar fundraiser from Cumbria has raised £310 for military charity Blind Veterans UK, to help fund their ongoing work supporting blind veterans across the UK through the Covid-19 pandemic.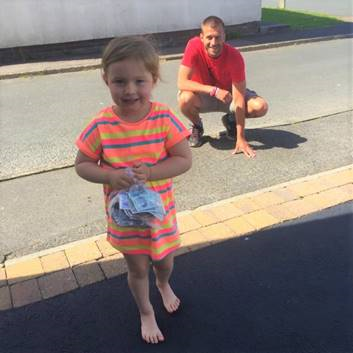 Lola Shutt from Egremont in Cumbria hosted a street collection in her front garden in the week building up to the 75th anniversary of VE Day, with Lola's dad Daniel Shutt helping bring in the numbers via social media. On VE Day itself there were goody bags for local children to take, with many leaving donations in Lola's collection tin.
Lola chose to fundraise for the charity that supports blind and partially-sighted veterans after going to see her cousin and blind veteran Darren Blanks complete the 26th mile of his back garden marathon. Inspired by Darren's fundraising for Blind Veterans UK, Lola decided she wanted to do something to add to his fundraising total.
Lola's dad, Daniel, says:
"I'm so proud of Lola for raising a fantastic amount of money for charity and giving something back to the community at such a young age."
Blind veteran Darren says:
"I decided to go ahead with a marathon in my back garden after the London Marathon was delayed as Blind Veterans UK need the support more than ever at the moment.

"Lola did a fantastic job with her collection, and I know Blind Veterans UK will really appreciate the effort she put in to make it a success."
Blind Veterans UK has adapted its service to support its 5,000 beneficiaries, 90% of whom are over 70 and thus being advised by the Government to self-isolate. The National Support Service will help blind veterans through this period of social isolation.
Nicky Shaw, Blind Veterans UK Director of Operations said: "Having to self-isolate, blind veterans need our help right now with daily tasks, such as the shopping, and constant emotional support through this difficult time. So we are temporarily changing our service and mobilising our staff to provide practical, essential support to help the most vulnerable."
Nicky Shaw added: "There is so much that we can and must do to support blind veterans to help them maintain physical and emotional wellbeing, and to feel safe, reassured and cared for during this crisis."
You can keep updated on Blind Veterans UK's response to Covid-19 at blindveterans.org.uk/coronavirus where you can also find out more about supporting the charity to make this new service possible.
Notes to Editor
Blind Veterans UK helps vision-impaired ex-Service men and women of every generation rebuild their lives after sight loss. Since 1915, we've provided rehabilitation, training, practical advice and emotional support to tens of thousands of blind veterans.
Find out more at: blindveterans.org.uk and follow us on Facebook at: facebook.com/blindveteransuk and on Twitter at: twitter.com/blindveterans