Staff from award-winning building services consultants Anderson Green undertook the gruelling Yorkshire Three Peaks (Pen-y-ghent, Whernside, and Ingleborough) for SSAFA, the Armed Forces charity and donations have already climbed above £2,000.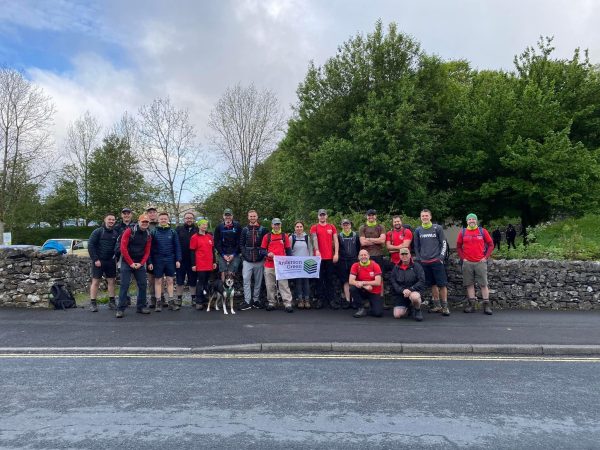 Some 19 men and women – and one staff member's dog – from Anderson Green's Nottingham and Leeds offices completed the three ascents and descents totalling 24 miles, raising not only funds for SSAFA, but also highlighting the extraordinary work the charity undertakes daily supporting serving personnel, veterans, and their families.
Major Danny Downham – Anderson Green's Defence Director and a serving Reservist with the Corps of Royal Engineers – gave more detail about the firm's involvement with the Armed Forces Covenant, and its relationship to SSAFA, the UK's oldest tri-service charity.
Maj Downham said:
"At Anderson Green, we pride ourselves on supporting all charities, but SSAFA remains very close to the hearts of serving Regulars and Reservists, veterans and their families employed within the company; they provide an unrivalled, support network for service personnel."
Among those he works alongside, and tackled the Yorkshire Three Peaks with, are another Reservist Sapper, Steve Cragg – both based at RAF Wittering and Chetwynd Barracks – and former Warrant Officer Nick Statham, a Sapper veteran.
Maj Downham added:
"SSAFA's work, the positive impact it has locally and across the UK and overseas is consistently acknowledged by all Anderson Green's engineers and administration staff in their routine engagement and consultancy on the MOD Estate, and so, Steve, Nick, and I were all too happy to undertake the challenge along with our civilian colleagues."
He said that all at Anderson Green recognise
"… the valuable sacrifice and contribution that all members of our Armed Forces make to the United Kingdom through their service, and we signed the Armed Forces Covenant to reflect this; this is our pledge to support the Armed Forces community, veterans, and their families."
Not all fundraising for SSAFA needs to be as arduous as Anderson Green's, but for information on the work SSAFA does, and how it can be helped to provide support when, where, and how needed, visit ssafa.org.uk.