20 September 2023 – 09:30 AM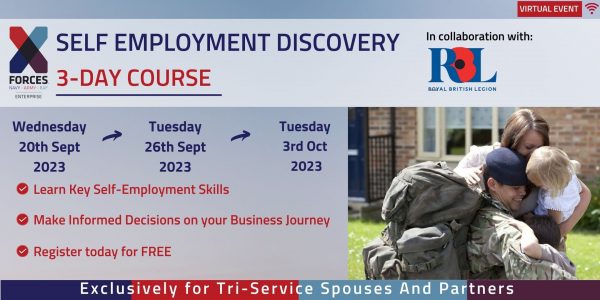 Why attend?
X-Forces Enterprise (XFE) is excited to relaunch our popular 3-day training course designed exclusively for Tri-Service Spouses & Partners, of both serving personnel and veterans, who are looking to explore alternative employment options. The 3-Day Self-Employment Discovery course is an amazing opportunity to develop valuable enterprise skills, learn all about the self-employment landscape, determine the viability of any business idea and network with other spouses and partners going on a similar journey to you.
In collaboration with the Army, RAF & Navy Families Federations. Supported by The Royal British Legion.
When?
The online workshop will be over three dates: 20th September, 26th September, and 3rd October 2023.
Starting time of each day will be 9:30 am.
The course content will cover:
• The pros and cons of self-employment
• Understanding what starting a business means for you, your family and your finances
• Attributes of a successful entrepreneur
• Explore what support is available, and how to access it
• Peer-to-peer support & networking opportunities through XFE
• What it is to be a business owner – facts and misconceptions.
• In-depth analysis of the business plan -– to enable individuals to understand their business in context.
• Marketing – market research, understanding the market, competitors, marketing oneself effectively.
• Money and finance -– covered in an accessible, interactive way enabling individuals to understand what to consider and how to apply it and risk mitigation.
• Networking, Connections, Support.
• Legal aspects -– covering various points from intellectual property to legal set-ups for starting a business.
• Sustainability -– including on-going client management and client acquisition, building out and developing a business plan over time.
• Growth and how to manage it – staff recruitment.
Michelle Williams, a military spouse & founder of Elementary Sciences, said:
"Starting a business can be very daunting and, at times, quite an isolating experience. Having the XFE team there to support you, including individuals who have specialist knowledge and expertise in access to finance, was really helpful.

Getting going initially can be hard if you don't have a business background, but XFE were on hand to explain concepts like cash flow and setting up a business plan. It was also really useful to speak to others, like me, on the workshops and to exchange knowledge and solutions to mutual problems."
Connectivity
In order to participate in the online course, you will need a personal laptop or tablet with webcam and microphone enabled, and a stable broadband connection with at least 2Mbps spare bandwidth and a fixed, quiet environment. The course will take place via Webex.
You will be emailed further information nearer the course, including how to get online & join the virtual workshop for free.
FAQ
Is there an age range for the course?
You have to be 18 or over to attend.
What do I need to do in advance of the course?
You need to sign up to XFE Hub as a member and complete the questionnaire before the training.
What will be the structure of the course?
It will be delivered through a mixture of online resources, virtual instructor lead training sessions, virtual group exercises with peers, literature review, individual remote exercises and individual interim self-paced work.
What if I can no longer attend?
We would respectfully request that, in the unfortunate event that you can no longer join us on the date booked, you give us at least 7 days warning so that we can ensure these vital spaces are filled. This is especially key during these uncertain times.
We limit class sizes to between 8-10 people to ensure maximum success for participants. XFE is proud to celebrate 7 years in delivering these highly acclaimed and consultative training workshops. We help you understand your personal motivations for business start-up and help you strategize and plan to make the business a success: your success is our success.