SSAFA, the Armed Forces charity, gives grateful thanks to the Queen Mary's Roehampton Trust (QMRT), for its generous donation of £25,000 in 2023 to assist SSAFA to deliver case work services to help ex-servicemen and women, and their dependants, who were disabled in service and need assistance.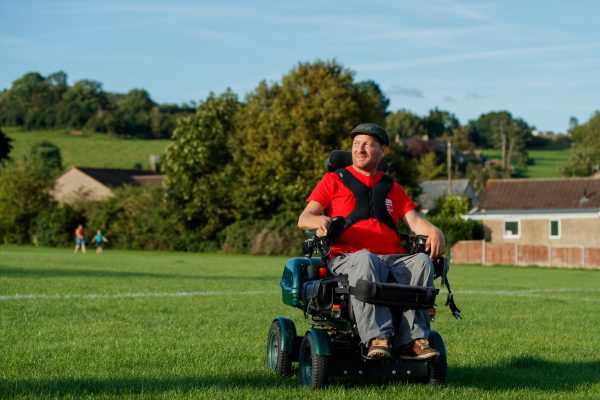 QMRT, based in Salisbury, has helped fund SSAFA caseworkers for more than 25 years. The Trust makes grants to organisations which provide services for war disabled ex-Service personnel, and former members of the mercantile marine, disabled in war, and their dependants.
Young Neil Francis believed he was invincible. He'd joined the Royal Navy as a radio operator at 16, but a year later he had an accident whilst on operations in the Middle East.
Neil was rushed to hospital in Dubai. He had no idea it would be the end of his career, or that he would never walk again. Once back in the UK Neil was told he was paralysed with only very limited movement in his arms. He had broken his neck.
Neil's mind quickly turned to his family. At the time of his accident his mother had a young daughter and was heavily pregnant with her third child. The family had very little money, and Neil was the 'breadwinner'. His income was supporting them all, but his injuries meant he had to leave the Navy. That's when SSAFA stepped in.
"I'd joined up to see the world and to support my family. For me they were the two most important things."
Neil was allocated a SSAFA caseworker, who assessed his, and his family's needs, and worked towards alleviating issues that arose because of Neils accident.
"SSAFA were there before I came out of hospital. They were there for my mum when she had my baby brother – it was the most important thing at the time to make sure they were taken care of. They bought nappies and baby things, they helped with the cost of our heating. That was my first experience of SSAFA support."
Neil can always count on his SSAFA caseworker to help. Recently Neil was in a lot of pain from his old wheelchair. He had found a new chair that would help him live a better life, but it was more than he could afford. He was able to secure part of the expense from NHS wheelchair services but knew he could never raise the rest on his own.
"Before I knew it, someone was round [from SSAFA] and I explained what I needed. They helped me get in touch with RBL and other charities and they all gave some funds, but not enough to cover the full cost. By then though, I was motivated enough to work with my friends to raise the rest."
Neil, his friends, and his family did manage to fundraise the rest of the money needed for the new chair and Neil found a new lease of life.
"I feel a lot more free. I go off track. A little bit crazy sometimes. But that is the freedom. Being able to be yourself, be a daredevil again. It's given me the freedom to be me."
None of this would have been possible without SSAFA's specialist volunteer caseworkers.