Pamela Reynolds, a volunteer for SSAFA, the Armed Forces charity, in Reading, was recently commended by the charity for her literacy work with Gurkha women. Pam was awarded a prestigious Sir James Gildea Award for her tireless commitment to the charity. The award was presented by television star, Joanna Lumley, who has also championed the Gurkha community.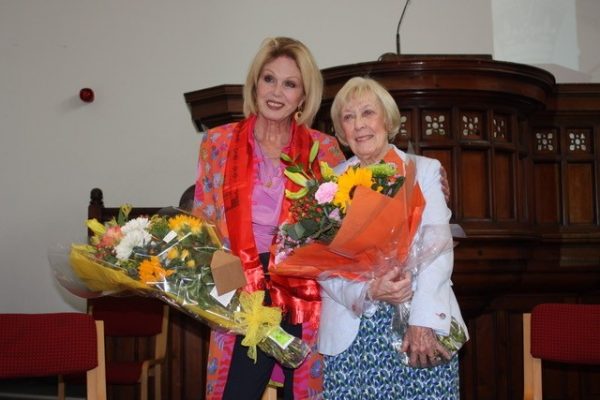 Pam said:
"Thank you so very much for this. It was not just me, but also our very many helpers. I am quite overwhelmed. Thank you for the gift and the flowers."
In 2011 SSAFA Berkshire recognised that many women in the Gurkha veteran and serving community were lacking in reading and writing skills, which was negatively impacting their lives in the UK. In response to this, Pam set up the Reading Gurkha Ladies' Project. The project taught literacy skills to hundreds of women, and continues to do so.
Pam said;
"I am still recovering from the surprise of being awarded the Sir James Gildea Award, which was completely unexpected, but nonetheless, very gratefully received. Working on the Gurkha Project has been a joy and a great privilege for me."
The community presented Pam with a beautiful mirrored drinks tray as a 'thank you' for her efforts. The Gurkha women, who were dressed in full national costume, performed their national dance and sang national songs for the audience.
Joanna Lumley said:
"I am proud to present the Sir James Gildea Award to Pam. She so deserves it. She has worked very hard for many years to help huge numbers of Gurkha Ladies."
Pam will soon be stepping down from running the Gurkha Ladies Project but SSAFA Berkshire's Sophie Schneider, will be taking over.