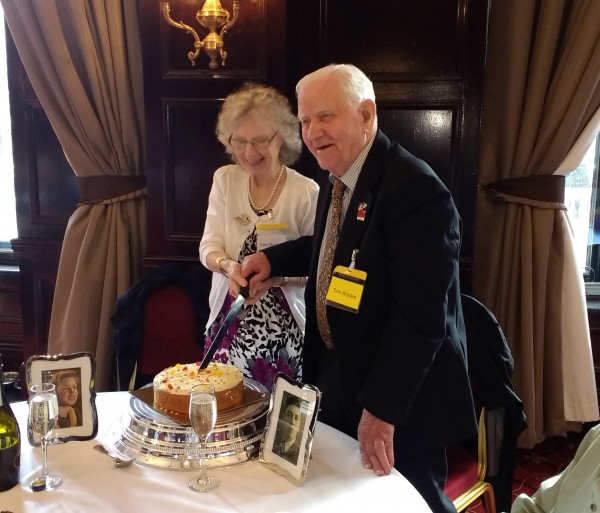 A couple from Tyne and Wear celebrated their 70th wedding anniversary this week (27/04) and marked the occasion at a special lunch with a military charity that has supported them both.
Tom and Amy Bryden, from High Spen, were toasted at the Blind Veterans UK lunch club in Newcastle on Monday (24/04) and were presented with an anniversary cake and champagne.
Tom, 88, and Amy, 86, were childhood sweethearts first meeting when Tom bravely approached her in the shop where she was working in Dunston.
Amy says: "It was so lovely of everyone at Blind Veterans UK to organise this for both of us. Celebrating our platinum wedding anniversary with all our friends there made it extra-special."
Amy was 14 and Tom 16 when they met and they married two years later at Christ Church, Dunston, when he came home for two weeks from his National Service posting in Italy. Tom, who was working in a factory with a by-product of small scraps of German silver before his National Service, used them to make an engagement ring, which Amy says she wore for 52 years until finally the band wore too thin and Tom replaced it with a platinum ring.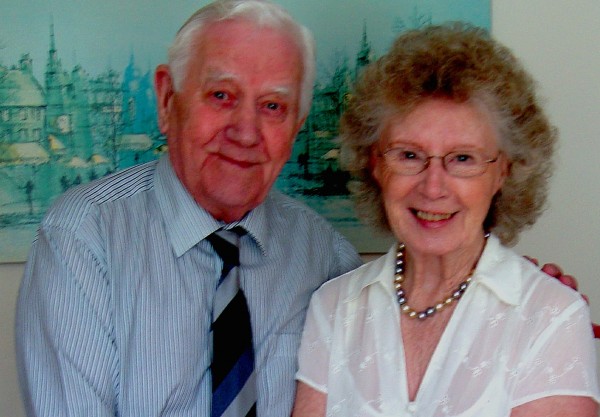 Tom says: "My grandma had noticed Amy in the shop and suggested I talk to her.  I went to 'have a look' and several visits to the shop later I plucked up the courage to ask her out – and the rest is history.  She was so pretty and had gorgeous red hair."
Tom came home for two weeks from his National Service posting in Italy for their church wedding. After returning to his National Service, he was caught up in an explosion when the tank he was commanding in Suez hit a land mine in 1948.  He was seriously injured by flying shrapnel.
Tom has been supported by Blind Veterans UK, the national charity for vision-impaired ex-Service men and women, since 2004. He lost his sight many years after his Service and suffers from macular degeneration, a leading cause of sight loss in older people.
Tom says: "As I had done National Service, I was advised by the doctor at Newcastle Hospital who registered me as blind to get in touch with Blind Veterans UK. I'm so glad he did!
"The support from the charity is first class and the training was out of this world. As well as providing very useful equipment, the charity provides comradeship which is very important to me. It has given me the ability to accept my sight loss and realise it is not the end of the world."
Amy adds: "We've been attending the local Blind Veterans UK lunch club for more than five years now and it's always lovely to meet up with everyone.
The couple, who have three sons, six grandchildren and eight great-grandchildren also celebrated the anniversary with a meal with all their family and plan to visit a spa hotel in Scotland.
Tom is currently chairman of Sight Service in the North East who support those from the area who have lost their sight.
Blind Veterans UK was founded in 1915 and the charity's initial purpose was to help and support soldiers blinded in the First World War. But the organisation has gone on to support more than 35,000 blind veterans and their families, spanning WWII to recent conflicts including Iraq and Afghanistan.
For more than a century, the charity has been providing vital free training, rehabilitation, equipment and emotional support to blind and vision-impaired veterans no matter when they served or how they lost their sight. Visit blindveterans.org.uk/support to learn more about the charity and how you can support its vital work today.
ENDS
For all media enquiries please contact:
Mark Wheeler, PR Manager, Blind Veterans UK, 12 – 14 Harcourt Street, London, W1H 4HD, E: mark.wheeler@blindveterans.org.uk, T: 020 7616 7980
Notes to Editors
Blind Veterans UK
Blind Veterans UK is a national charity that believes that no-one who has served our country should have to battle blindness alone. Founded in 1915, the charity provides blind and vision impaired ex-Service men and women with lifelong support including welfare support, rehabilitation, training, residential and respite care.
Find out more at: blindveterans.org.uk, follow us on Facebook at: facebook.com/blindveteransuk and on Twitter at: twitter.com/blindveterans.