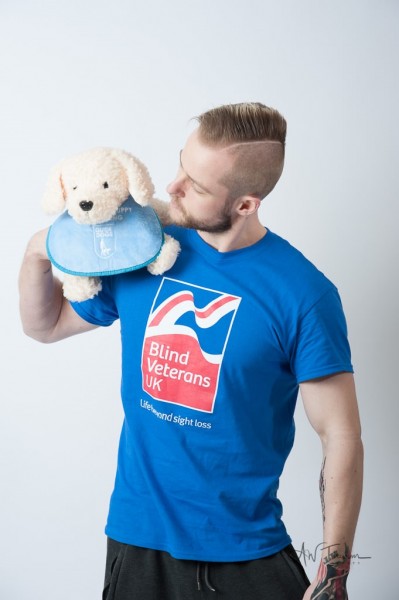 A man from Tyne and Wear is currently training to compete in a 100km walk in Yorkshire for Blind Veterans UK, the national charity for blind and vision-impaired ex-Service men and women.
James Hatton, 27 and from South Shields, was on the lookout for a new way to physically challenge himself when he came across the trek, which takes place from 23 – 24 June around the Dales. He explains: "You name it, I've done it! I've completed a 10,000ft freefall solo skydive, a bungee jump, several half marathons and even walked over hot coals!
"That's the kind of person I am. I like to set myself new goals to achieve, new targets to smash and, hopefully, new causes to support!"
While James admits that he'd never heard of Blind Veterans UK before signing up, he explains this has enabled him to get fully behind his newfound cause with no shortage of passion and gusto. He says: "Whenever I discover a new charity, I have the opportunity to fully immerse myself with the cause and the people it supports. For me, that deeper level of understanding is really important."
Such is James' level of engagement that he has already raised well in excess of the £300 minimum sponsorship pledge. He says: "I've been absolutely blown away by the response so far. In less than five weeks I've smashed my target. It just makes me even more excited to see what my supporters and I can achieve by June!"
Despite James' history of challenging himself physically, he insists he's still feeling the nerves ahead of the big day. He explains: "It's one of the UK's toughest events. Add to that the weather, the fact you have no way of knowing what it's going to be like on the day, and you have yourself a peculiar cocktail of emotions! That's currently my biggest focus in training: getting used to prolonged trekking on numerous terrains, during both day and night.
"Honestly, getting used to the wind, rain and sleet this January has fast become the greatest obstacle! That being said, I'm excited about what lies ahead because I absolutely thrive off of being outside my comfort zone."
For now, while James recognises the challenge of what lies ahead, he's eager to encourage as many other people as possible to sign themselves up. He says: "Remember, this isn't a race! It's a walking challenge that can be done on your own, as part of a relay or in a team. By taking part you'll not only be raising vital funds for an amazing cause, but also have a front row ticket to some truly beautiful views of the Yorkshire Dales. It's something that many simply do not get the chance to experience."
The 100k Yorkshire will take place from 23 – 24 June 2018. It will see participants start and finish at Darley Memorial Hall in Nidderdale, with a circular route which passes through Brimham Rocks, Ripley Castle and an abundance of stunning fields.
Registration is now open with a fee of £40 for individual and team entrants, and £90 for relay teams. There is a minimum sponsorship pledge of £300 for individuals, £1,250 for teams and £500 for relay teams. The all-inclusive entrance fee includes lunch, dinner and breakfast at numerous rest stops, snacks and refreshments along the route and a free event t-shirt.
To support James as he prepares to take on the 100k Yorkshire for Blind Veterans UK, please visit: justgiving.com/jameshattontrek.
To sign up for the Blind Veterans UK 100k, please visit blindveterans.org.uk/100k.
For all media enquiries please contact: Felix Arbenz-Caines, PR Assistant, Blind Veterans UK, 12 – 14 Harcourt Street, London W1H 4HD, E: Felix.Arbenz-Caines@blindveterans.org.uk, T: 020 7616 7941
Notes to Editor
Blind Veterans UK
Blind Veterans UK is a national charity that believes that no-one who has served our country should have to battle blindness alone. Founded in 1915, the charity provides blind and vision impaired ex-Service men and women with lifelong support including welfare support, rehabilitation, training, residential and respite care.
Find out more at: blindveterans.org.uk, follow us on Facebook at: facebook.com/blindveteransuk and on Twitter at: twitter.com/blindveterans.