Royal British Legion Industries (RBLI) has received the backing of Barratt Developments plc, the country's biggest housebuilder, for its £14m campaign to create a specialist Centenary Village for veterans and their families.
RBLI has provided excellent care, support and employment for veterans who were wounded, sick or disabled from its Kent headquarters since it was founded in 1919 in response to the need at the end of the First World War.
Marking the £750,000 financial commitment to the campaign, Steve Sherry, Chief Executive of RBLI, presented a bespoke gift to David Thomas, Chief Executive of Barratt Developments at its annual leadership conference on Thursday 18 October.
The gift was made by William Murray a veteran who served in the Royal Signals from 1991 to 2004, now working as a water jet operator at Scotland's Bravest Manufacturing Company.  William suffered with injuries in his knees and now has a metal plate in his left leg as well as suffering from anxiety and depressive disorder.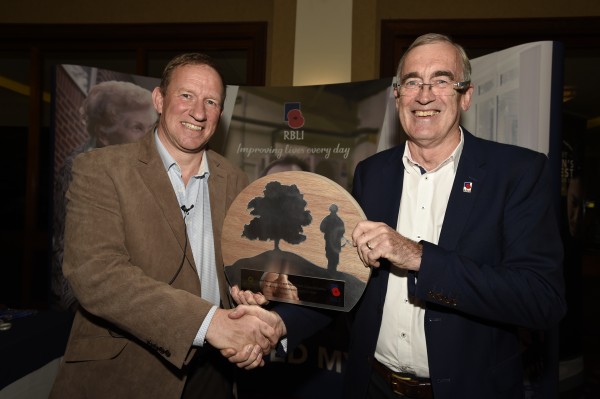 David Thomas, Chief Executive of Barratt Developments, said: "This is the largest donation in our company's 60-year history. RBLI and Barratt have a lot in common, with both organisations providing housing, building communities, employing ex armed forces personnel and marking significant anniversary milestones. This is why we wanted to support them as they look to build the Centenary Village. 
"We are immensely proud to stand alongside RBLI in the development of this project and help this amazing charity continue to provide crucial housing support to ex-servicemen and women…"
The Centenary Village will include an assisted living scheme, extending the care and support service by a further 24 units, each adapted and capable of meeting the needs of some of the most vulnerable residents.
A further 24 new apartments, costing £1.3m and designed to be fully accessible, will house single veterans in urgent need alongside 20 new family homes in a mix of town and mews style housing.
The new homes will sit alongside a new Community Centre where veterans and their families will have access to a range of services, welfare support and training, tackling isolation through social engagement and promoting independence.
Steve Sherry CMG OBE, Chief Executive of RBLI, said: "We believe that those who have served, many of whom were injured, disabled, or have developed health needs as a result of their time in service, deserve our support. Their sacrifice, and that of their families, is profound, which is why we are doing everything we possibly can to be here for those in need.
"Next year marks a significant milestone for the organisation which has supported thousands of ex-service personnel since we were established.
"We are completely focused on how we can meet the ongoing and complex needs of ex-service personnel and their families for the next hundred years. We would like to thank Barratt Developments for their extremely generous donation and for backing our most ambitious project yet."
The original RBLI village provides housing, welfare support and care to over 300 members of the Armed Forces community, facilities include a purpose-built nursing home, supported living apartments and emergency accommodation for veterans.
Last year RBLI completed an investment of £4.3m in 24 specially-adapted apartments for wounded, injured and sick ex-service personnel named Victory and Invictus Games House, designed by Canterbury-based Clague Architects, and opened by Sir Michael Fallon, the then Secretary of State for Defence. The new apartments were finalists in the RICS 2018 Awards and Clague has been appointed to deliver the masterplan for the Centenary Village
RBLI has also secured £3.7m to expand facilities, including 12 new care suites at Gavin Astor House which offers 24-hour care, plus a new Day Care Centre, and dementia care training for the entire nursing care team.