Event Details: Ayr Town Hall, KA7 1LU: Friday 31 May from 10am to 2pm
 A group of organisations that together have helped 7,000 older Armed Forces veterans across Scotland in the past year and a half will be hosting an event in Ayrshire next week to spread the word of what support is on offer.
The Unforgotten Forces consortium, which delivers a range of new and enhanced services for veterans aged 65 and over, will gather at Ayr Town Hall (on Friday, 31st May, from 10am to 2pm) and welcome veterans from Ayrshire and beyond.
Speaking on behalf of the Unforgotten Forces consortium, Gary Gray, Head of Welfare Services at Poppyscotland, said:
"This free event is open to everyone and there will be a number of stalls and experts in attendance on the day to talk veterans through what support is available and how easy it is to access that help via Unforgotten Forces. We are an innovative multi-organisational project that's improving the health and wellbeing of older veterans in Scotland aged 65 and over."
Led by Poppyscotland, the consortium is made up of 16 organisations; a number of which will be in attendance on the day. Those set to host stalls are: Action on Hearing Loss; Age Scotland; the Armed Services Advice Project (ASAP); the Defence Medical Welfare Service (DMWS); Fares4Free; Legion Scotland; Poppyscotland; SSAFA (The Armed Forces Charity); and the Scottish War Blinded. Also present will be representatives from across the statutory Health and Social Care and Third Sector agencies.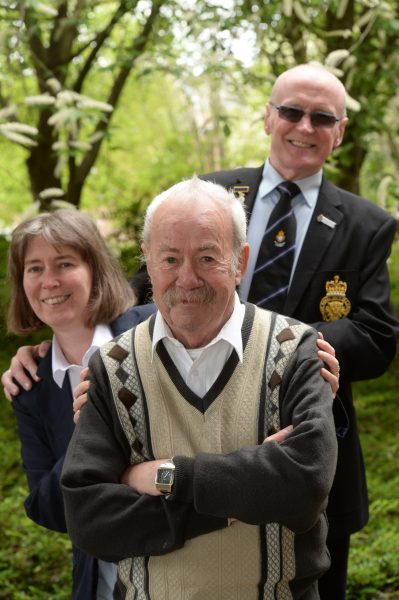 The consortium delivers a range of new and enhanced services in areas including advice, support in the NHS pathway, tackling loneliness and social isolation, helping with hearing and sight loss, holiday breaks, transport for essential travel and arts based activities.
One such (local) veteran that has benefitted from the collaborative approach employed by Unforgotten Forces is Ian Wilson, 80, who lives in Kilmarnock, and served with the Royal Dragoons from 1960 to 1962. Mr Wilson, who spent almost his entire time in the Armed Forces overseas, struggles with limited mobility – "My legs don't work!" – and was unable to get out and about.
However, thanks to support from Poppyscotland, Fare4Free and SSAFA Ayrshire – three of the Unforgotten Forces partners – Mr Wilson now has a light-weight electric scooter and an electrical hoist to lift the scooter in and out of the car. This has allowed him to get out and about to enjoy day trips with his wife, Jeanette, to places like Troon, Irvine and Saltcoats. When Jeanette was suffering with cataracts and unable to drive, Fares4Free stepped in to take Mr Wilson to drop-in groups, thereby giving the couple some respite.
Mr Wilson said:
"It's thanks to the likes of Poppyscotland, Fare4Free and SSAFA Ayrshire that I have my independence back to get out and about. I spent all of my time in the Royal Dragoons away from home, so I am used to travelling. I was in Aden, the Persian Gulf and Singapore, and, during that time, my wife never even saw me in my uniform as I was never home!"
The consortium was awarded £4 million of Libor funding from the Ministry of Defence Covenant Trust's Aged Veterans Fund to undertake this ambitious programme of work over a three-year period between 1 July 2017 and 30 June 2020. In its first 18 months of operating, it has already provided almost 6,000 instances of support to older veterans across Scotland.
Notes to Editors
For further information and all media enquiries, please contact David A. Findlay, PR Manager at Poppyscotland, on 079797 35611, or email at d.findlay@poppyscotland.org.uk.
Unforgotten Forces is a partnership between the following organisations: Action on Hearing Loss Scotland; Age Scotland; ILM Highland; Citizens Advice Scotland; Defence Medical Welfare Service; Erskine; Fares4Free; Legion Scotland; Luminate; Music in Hospitals & Care Scotland; Poppyscotland; Royal Air Forces Association; Scottish Older People's Assembly; Scottish War Blinded; SSAFA; and the University of West of Scotland. Collectively, they have more than 1,000 years of experience in their respective fields. For further information on the Unforgotten Forces programme please visit: www.poppyscotland.org.uk/get-help/unforgotten-forces/.
Poppyscotland provides life-changing support to the Armed Forces community. Money raised from the Scottish Poppy Appeal and Poppyscotland's year-round fundraising enables them to deliver support to members of the Armed Forces community in Scotland by providing tailored funding and assistance. The charity also funds services in advice, employment, housing, mental health, mobility and respite. Please note that we are known as "Poppyscotland", and not "PoppyScotland" or "Poppy Scotland". For more information, please visit us at: www.poppyscotland.org.uk.