A stunning, symbolic sculpture depicting the last remaining tree in a First World War battlefield is set to go on display at Kelvingrove Art Gallery and Museum to coincide with the launch of the commemorations of the Battle of Arras which began 100 years ago this week.
The sculpture, entitled "FRANCE 1914", was created by artist Simon Burns-Cox who donated it to Poppyscotland, an organisation which provides life-changing support for the Armed Forces community. Having previously been on display at the Scottish Parliament and the People's Palace Museum, it will be exhibited at Kelvingrove for the coming 12 months, before moving to Glasgow's Riverside Museum next year. Thereafter, it will be auctioned off with the funds going to Poppyscotland.
The Battle of Arras commenced on 9th April 1917 and saw 44 Scottish Battalions take part in one of the bloodiest battles of the War. In attendance at the unveiling will be Lieutenant Colonel Helen Homewood MBE, whose uncle, Sergeant John Erskine VC, fought and died on the Arras battlefield. Sgt Erskine, 5th Battalion Scottish Rifles (Cameronians), had been awarded the Victoria Cross in 1916 for his bravery in saving wounded comrades. A year later, he would be one of the 46,000 Scots to fall at Arras.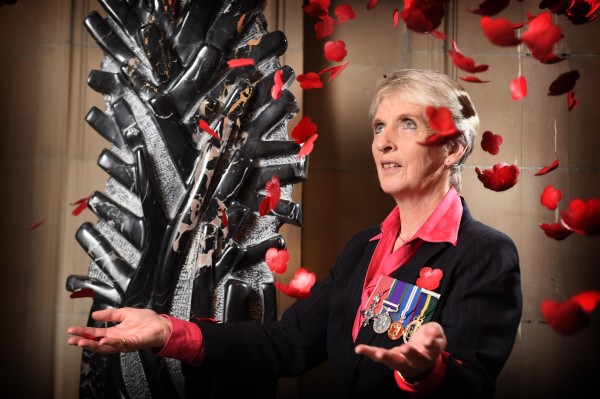 Sgt Erskine was buried close to where he fell, but, due to the ensuing battles, the grave was lost. His name is recorded on the memorial to those with no known grave at the Faubourg D'Amiens cemetery in Arras. It also appears on the Dunfermline War Memorial and the Cairneyhill War Memorial. His mother received his VC from the King on 2 June 1917.
Edinburgh-based artist Burns-Cox said: "The sculpture was intended to represent the last remaining tree on the battlefront and a symbol of hope. It is made from black and gold Portoro marble which has been carved and highly polished by hand. It took me about a year to make."
He added: "I believe in supporting the Armed Forces in any way I can as these people have put their lives on the line for us. Perhaps, I also identify with those who have suffered having been ill myself which resulted in life-changing consequences, but also led me to becoming a sculptor."
At the age of 33, Burns-Cox was taken seriously ill with a brain haemorrhage which left him unable to speak for two years. During this bleak period, he discovered the art of stone carving which he found allowed him to express himself in the absence of his own voice.
When he eventually recovered after intensive speech therapy, Burns-Cox decided to train formally in stone carving in the UK and then went to Rome, where he spent nearly four years learning the skills and techniques of marble sculpture and carving from Italian craftsmen and artisans.
Mark Bibbey, CEO Poppyscotland, said: "Simon's sculpture is a striking and poignant piece of work and we were exceptionally grateful that he chose to gift it to Poppyscotland. It has been most satisfying to see it on its 'tour' of significant venues, and I am quite sure that the year spent at the Kelvingrove Art Gallery and Museum will open up this fantastic sculpture to a whole new audience, educating people about a battle that has often been overlooked in relation to others."
Glasgow's Lord Provost, Sadie Docherty, said: "Glasgow Museums is honoured to have displayed Simon's thought-provoking work at the People's Palace this past year. Visitors' feedback has reinforced our belief that it is crucial we continue to share stories from the First World War to ensure such suffering is never repeated.
"We are pleased this symbolic sculpture will now be on show in Kelvingrove Art Gallery and Museum. It will add to an already powerful collection of World War-inspired pieces, helping to inform and educate many of the visitors who come to the museum. I am sure people will be struck by the beauty of the work and spend a little time considering the devastating consequences of war, both in the past and where such turmoil continues to affect so many today."
The Battle of Arras was fought in April and May 1917 to support a French offensive on the Aisne by diverting large numbers of German reserves to the north. It is not one of the better known battles of the First World War, but it deserves to be remembered for a number of reasons.
For the Scots, it was the biggest battle ever undertaken. Three Scottish infantry divisions took part in the assault and, of the 120 participating British infantry battalions, 44 were from Scottish regiments. This made the entire force seven times larger than Robert Bruce's army which had fought at Bannockburn in 1314.
At the end of the battle, which had begun on the morning of 9th April and concluded in the middle of the following month, the British had suffered around 159,000 causalities, 46,000 of whom were Scots. Arras was the last time in the War when so many Scottish formations would be on the same battlefield at the same time.
ENDS…
Notes to editors
For further information please contact David A. Findlay, PR Manager at Poppyscotland, on 0131 550 1580 or 07950 991 294, or email at findlay@poppyscotland.org.uk
Poppyscotland provides life-changing support to the Armed Forces community. Money raised from the Scottish Poppy Appeal and Poppyscotland's year-round fundraising enables them to deliver support to members of the Armed Forces community in Scotland by providing tailored funding and assistance. The charity also funds services in advice, employment, housing, mental health, mobility and respite. Visit us at poppyscotland.org.uk
FRANCE 1914 will be for sale by auction in 2019 to raise funds for Poppyscotland. Expressions of interest should be made to Poppyscotland and Simon Burns-Cox.
David Findlay | | PR Manager | Poppyscotland

Direct Dial: 0131 550 1580    Tel: 0131 557 2782   Mob: 07950 991294