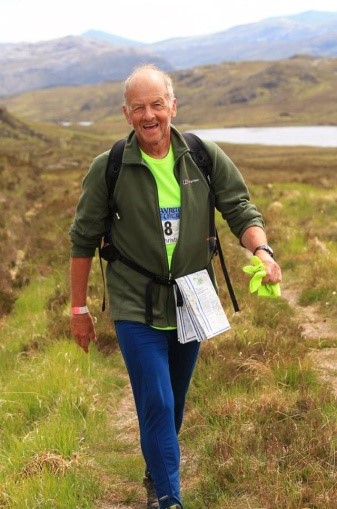 A man from Chapel St Leonards is training to compete in a 100k walk across the Yorkshire Dales for Blind Veterans UK, the national charity for vision-impaired ex-Service men and women.
Jack Christian, 63, is a university lecturer at Manchester Metropolitan University, teaching business students on ethics and sustainability. It was due to what he describes as a strange sequence of events that he finds himself in preparation for the ultra-challenge. He says: "Initially I came across an advert for the event that ran in a local Sheffield paper, then I found myself talking to a friend who's Served 20 years. Not long after that, by chance, I met and helped a blind person at the railway station while on my way to work. Well it was all too much of a coincidence for me, so I decided I just had to answer the advert and sign up!"
Jack himself served in the Royal Signals in the 1970s and has a number of friends and family who are still in active duty, with many having toured action zones. After leaving service Jack trained as a teacher, which ultimately resulted in his employment at Manchester Metropolitan University.
Jack, an avid walker, already maintains a healthy lifestyle and has a particular penchant for setting himself challenges. He says: "The training is going really well, I've just competed in a 50k race so I'm confident that come June I'll be in peak physical condition!"
Jack, who plans on finishing the course in an incredible 18 hours, is no stranger to long-distance tests, having last year competed in the Cape Wrath race, a daunting 249 mile trail walk from Fort William to Cape Wrath. He says: "Unfortunately, I wasn't quick enough to do the full race, but I still managed to cover 198 miles in seven and a half days and managed to raise several hundred pounds for charity at the same time. I'm aware of the fantastic work that Blind Veterans UK does in supporting vision-impaired veterans regain confidence and achieve independence, so I'm looking forward to raising money for them as well."
Registration for the 100k is currently open with a registration fee of £62.50 for the 100k. For those not wanting to walk the full distance there is also a relay option available for teams of four walking 25k each. Teams taking part in the relay have a registration fee of £110. The all-inclusive entrance fee for participants includes lunch, dinner and breakfast at three rest stops, snacks and refreshments along the route and a free event t-shirt. You can find out more information and sign up at blindveterans.org.uk/100k.
This year, the 100k Yorkshire will follow a stunning new circular route, which starts and finishes in Darley in the beautiful Nidderdale. From there the route follows the River Nidd, goes onto Brimham Rocks, and past Ripley Castle. Trek through the dramatic rural Yorkshire landscape.
To support Jack as he takes on the 100k for Blind Veterans UK, please visit: https://www.justgiving.com/fundraising/JackChristian.
For all media enquiries please contact: Felix Arbenz-Caines, PR Assistant, Blind Veterans UK, 12 – 14 Harcourt Street, London, W1H 4HD, E: Felix.Arbenz-Caines@blindveterans.org.uk, T: 020 7616 7941
Notes to Editor
Blind Veterans UK
Blind Veterans UK is a national charity that believes that no-one who has served our country should have to battle blindness alone. Founded in 1915, the charity provides blind and vision impaired ex-Service men and women with lifelong support including welfare support, rehabilitation, training, residential and respite care.
Find out more at: blindveterans.org.uk, follow us on Facebook at: facebook.com/blindveteransuk and on Twitter at: twitter.com/blindveterans.