On 23 September, university student Elizabeth Williams completed the Hever Castle triathlon raising money for the Fund in memory of her late father who was an RAF serviceman.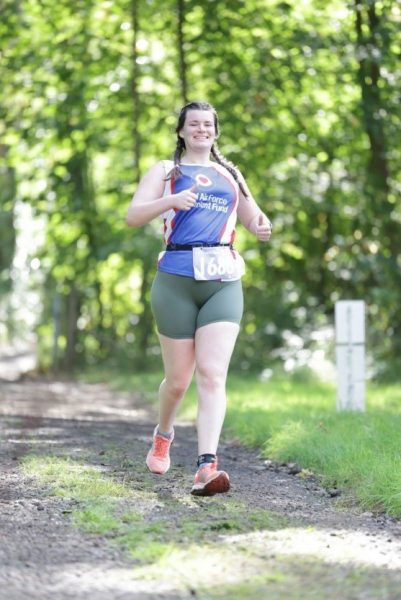 Elizabeth, 22, took on the three-part event in Edenbridge, Kent, alongside her close friend Molly.
The Fund is a charity close to Elizabeth's heart due to the support she has received since the age of 11.
Elizabeth's father, Flight Lieutenant David Rhys Williams, was a Tornado navigator in the Second Gulf War and served in the RAF for 17 years. Sadly, David was killed when his Tornado was shot down in a blue-on-blue incident in March 2003; Elizabeth was just two years old at the time.
The Fund enabled Elizabeth to go to Lord Wandsworth College for her senior education. Elizabeth's mother chose this school because of their foundation scheme for bereaved children and its proximity to home.
Elizabeth, who has just completed a masters degree at Newcastle University, said:
"After school, the RAF Benevolent Fund continued to support me very generously through my higher education, allowing me to achieve both an undergraduate and postgraduate degree."
Elizabeth said of the triathlon:
"I signed up for the triathlon as I enjoy having a long-term physical goal to focus on but is also a challenge. While at school I did several long-distance cycle rides including 200 miles to Devon and around the Isle of Wight, and a half marathon.

"These challenges made me want to combine the disciplines in a triathlon. My good friend Molly accompanied me through all of these and also agreed to do this triathlon with me – this was a decision made very late at night!"
Elizabeth believed she had a strong start when preparing for the event but due to injury and an impending dissertation deadline, her training reduced in recent months.
Elizabeth reflected:
"I felt slightly underprepared on the day. Throughout the event we alternated who was leading which helped us to cross the finish line only two minutes apart.

"The highlight was definitely the bacon sandwich at the end; I had been thinking about it since getting on my bike!"
Elizabeth and Molly have already signed up to take on the Blenheim Palace triathlon in 2024.
You can donate to Elizabeth's fundraiser for the RAF Benevolent Fund here. 
You can find out more about the support the Fund provides to the RAF Family here.