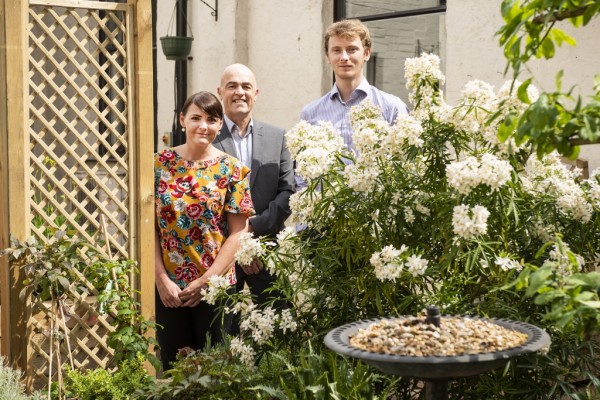 Green-fingered staff from public-private partnership Urban Vision have transformed a rundown courtyard garden at Broughton House, the Salford home for ex-servicemen and women.
A team of 13 volunteers from Urban Vision spent almost 60 hours revamping the neglected garden.
Urban Vision is a joint venture between Salford City Council, Capita and Galliford Try. It delivers a range of property, engineering and planning services across Salford to boost development and regeneration.
Broughton House is its charity of the year for 2018 and staff are supporting the home by raising funds as well as through volunteering activities.
The Urban Vision volunteers undertook design, construction and planting work at Broughton House and obtained materials free of charge from council contractors Horticon, Groundwork Landscapes, Landscape Engineering and idverde.
Greg Harding, a graduate landscape architect at Urban Vision, designed the new-look garden and Andy Stockton, associate director property design, led the team of volunteers.
The work included jet washing, planting in two large flower beds and installing new benches, tables, paving, a large parasol and a trellis archway for climbing plants.
Meanwhile five other volunteers from Urban Vision spent a day decorating an activities room at Broughton House.
Ty Platten, chief executive at Broughton House, said: ""The courtyard garden was neglected and hardly used, but the design, materials and sheer hard work undertaken by the team from Urban Vision have transformed it into a delightful area where our veterans can sit out and enjoy the sunshine.
"Our gardens will be unavailable during the redevelopment of Broughton House, which is due to begin in the near future, so this project means our veterans still have a fantastic outdoor space to enjoy.
"We're extremely grateful to Urban Vision for their great work and support and to the companies which supplied materials for the project, which makes a real difference to the lives of our residents."
Andy Stockton said: "We've planted an apple tree and evergreen plants to ensure there is colour throughout the year, as well as carrying out a variety of other tasks to overhaul the courtyard garden and make it a much more pleasant area for the veterans."
ENDS
Notes to editors
Photograph number 1 shows, left to right, Andy Stockton, Sarah Royle and Greg Harding of Urban Vision in the revamped courtyard garden at Broughton House.
Photograph number 2 shows, left to right, Sarah Royle, Andy Stockton and Greg Harding of Urban Vision in the revamped courtyard garden at Broughton House. Sarah Royle is Urban Vision's integrated services manager.
For more information contact Kevin Feddy on 0161 300 8543 or 07770 543112 or via kevin@kevinfeddymedia.co.uk.
For more information on Broughton House, visit www.broughtonhouse.com
For more information on Urban Vision Partnership, visit www.urbanvision.org.uk