Southend local, Mary Baker, was thrown a surprise birthday party to celebrate her 99th birthday at the SSAFA Southend Veterans club on Thursday 28th February with her friends and family.
Mary spent four years serving with the ATS (Auxiliary Territorial Service) during World War Two and has been attending the local SSAFA veterans club in Southend for over two years.
Mary, originally from Edinburgh, was called up in 1941 and sent up to Fort George in Inverness for training. She celebrated her 21st birthday whilst going through recruitment and, following training, was posted to Oswestry, Shropshire.
During her four years at Oswestry, Mary was on the medical team, helping the sick and injured at the camp. In her spare time, she was the lead drummer in the camp band, performing in local villages recruiting members.
Once the war was over, Mary decided to get a job in the Royal Army Pay Corps, dealing with payments for the Indian troops, based in Scotland. But then decided to move down to Southend-on-Sea at the age of 86 to live with her family.
The surprise party was held at the SSAFA Southend Veterans club, which is hosted every Thursday, where Mary was treated to an afternoon of celebrations, with a buffet, birthday cake and games.
Divisional Secretary for SSAFA Southend & Rochford, Chel Turner-Everett, said:
"It's been so hard keeping this a secret from Mary, but she really does deserve this! She is the sweetest lady and deserves some special treatment from the local community. We wish her the happiest of birthdays!"
The SSAFA Southend Veterans Clubs is held every Thursday in Southend. In addition, every month, SSAFA and the Royal British Legion come together to help support the local veteran community. The two charities offer different areas of support and mobilise different funds to help those in need.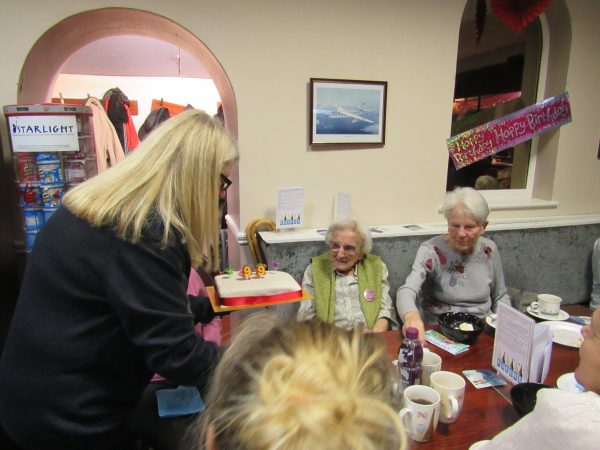 If you would like to find out more about the SSAFA Southend Veterans club, please contact the local team on 01702 463 113.
SSAFA, the Armed Forces charity provides lifelong support to anyone who is currently serving or has ever served in the Forces, and their families. This includes both regulars and reserves.
About SSAFA
SSAFA, the Armed Forces charity supports the person behind the uniform; any time they need us, in any way they need us, for as long as they need us. Every year, SSAFA help more than 73,000 people from the Forces family get on their feet; those currently serving, reserves, veterans and their families.
Support is there for people at any stage in their military career; from the youngest recruit to the oldest veteran – no one's service is ever forgotten. We give hope, help and personal support for as long as it takes to get that person's life back to where they want it to be.