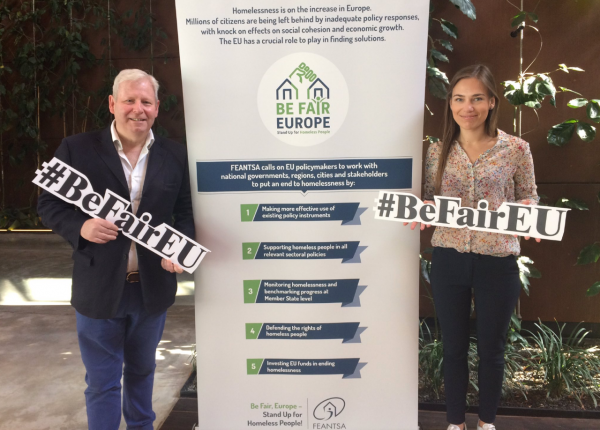 A Veterans Aid team joined homelessness experts from throughout Europe at the Annual FEANTSA Policy Conference in Poland.
More than 350 individuals including frontline service providers, academics, advocates, local, national and European policy-makers working in the homelessness and related sectors participated in the event held in the historic European Solidarity Centre in Gdansk. The conference was co-organised with St Brother Albert's Aid Society and the City of Gdansk
Veterans Aid CEO Dr Hugh Milroy said, "Once again VA found the FEANTSA conference hugely useful and informative. It is vital that we have a wider view of best practice and I can think of no better venue. We are immensely privileged to be a member of this elite group."
VA is the only UK military charity with membership of FEANTSA (The European Federation of National Organisations Working with the Homeless).
FEANTSA Director Freek Spinnewijn said, "Juncker's Commission has promised us a more social and fair European Union and yet it is struggling to convince citizens that it has a genuine social agenda, particularly since the 2008 crisis. By standing up for homeless people, the EU can change that. The European Commission has just launched a European Pillar of Social Rights with a strong focus on this issue. Now is the time for EU policymakers to work in partnership with national governments, regions and cities to put an end to homelessness."
Inadequate policies to tackle homelessness at the local, national and European level have left millions of people behind. A recent report published by FEANTSA and the Fondation Abbé Pierre has revealed rising homelessness across the majority of the European Union, as well as a dramatic picture of housing deprivation in almost all EU countries.
"As the EU draws up its 2030 strategy, it must match the ambition of the UN 2030 Agenda and use the instruments at its disposal to reach out to homeless people in order to fulfil its pledge to "leave no one behind," said Ian Tilling, FEANTSA Vice-President.
FEANTSA's new campaign, 'Be Fair Europe – Stand Up for Homeless People', calls upon EU policy-makers to work with national governments, regions, cities and stakeholders to put an end to homelessness by making more effective use of policy instruments; supporting homeless people in all relevant sectoral policies; monitoring homelessness and benchmarking progress at Member State level; defending the rights of homeless people and investing EU funds in ending homelessness.