The Taxi Charity was delighted to attend the event to commemorate the  77th Anniversary of Operation Varsity at Markshall Estate, in Essex on 24 March.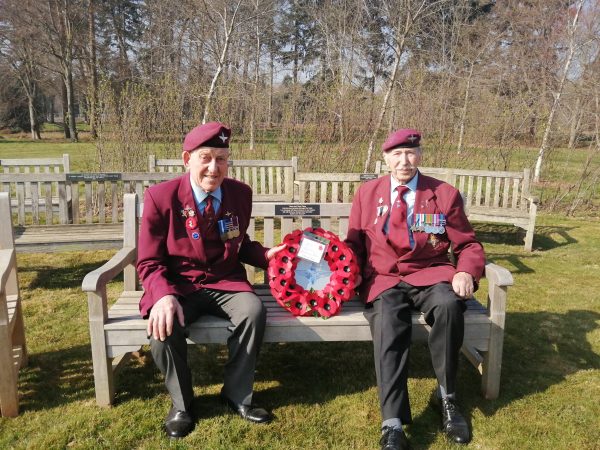 Taxi Charity volunteer Brian Heffernan was thrilled to take veterans Tom Schaffer, 97, and John Pinkerton, 80, in his black Taxi to an event at Markshall Estate, Colchester to commemorate the 77th anniversary of those who flew in Operation Varsity.
After completing his training, Varsity was the first operation that WWII Veteran Tom Schaffer completed as a member of the 13th Battalion Parachute regiment. The airborne forces operation, launched by allied  troops on 24 March 1945, involved more than 16,000 paratroopers and several thousand aircraft and was the largest airborne operation in history to be conducted on a single day and in one location. Operation Varsity was meant to help the surface river assault troops secure a foothold across the Rhine River in Western Germany   by landing two airborne divisions on the eastern bank of the Rhine near the village of Hamminkeln  and the town of Wesel. The operation was a success, with both divisions capturing Rhine bridges and securing towns that could have been used by Germany to delay the advance of the British ground forces.
WWII veteran Tom Schaffer, from Mill Hill, said,
"Operation Varsity was part of our job. My only thoughts at the time were let's get this done. We lost a lot of men, but the operation was a success and we captured 3.500 German soldiers. The Taxi Charity take me to commemorations all over the country and on the continent.  The volunteer cab drivers like Brian pick me up from home and without them I would not be able to participate  in so many commemorative occasions. They take us on fantastic social events too!"
Brian Heffernan, London Cab driver and Taxi Charity volunteer, said,
"It is an absolute privilege to take veterans to mark anniversaries like the one today at Markshall Estate to commemorate Operation Varsity. Tom and his friend and fellow paratrooper John Pinkerton laid a wreath for the more than 2,000 casualties who didn't return which is always very moving. The charity is preparing to take a group of  WWII veterans to The Netherlands in May for Dutch Liberation and to Normandy in June for the anniversary of D Day and I am looking forward to driving Tom and John as part of these two trips."